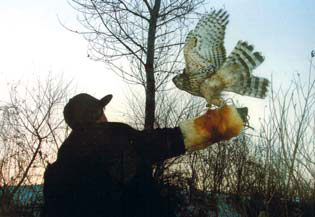 A hunter trains a falcon. File photo
A court in Henan province confirmed on Friday that it would review a verdict in which a former college student was sentenced to 10 years in prison for catching and selling endangered falcon chicks.
The case of the 21-year-old student in Henan province captured intense interest on the Internet, where nearly 150,000 netizens had responded to a question on qq.com about whether the sentence was too harsh. About 87 percent of the respondents said "Yes," while only 13 percent said it was justified.
Yan Xiaotian, then a student of Zhengzhou Technical College, found the birds in his home village in Huixian, Henan province, in July 2014. He and a friend used a ladder to reach the 12 falcon chicks. Yan sold 10 to buyers from the province.
Later that month, Yan and his friend, surnamed Wang, found another nest and took four falcons. Police detained them soon afterward. The 16 birds were endangered Eurasian hobbies.
Yan and Wang were sentenced in May to more than 10 years in prison.
A prosecutor in Huixian defended the sentence, saying Yan had previously bought a crested goshawk online and resold it at a profit. State guidelines on wildlife infringement cases provide for the 10-year prison term in cases where more than 10 rare and endangered wild animals are captured and sold.
But some argued that it was not right to imprison the student for trading birds, since it is common for children raised in the country to remove birds and eggs from their nests, and Chinese people have long treated wild animals as a tonic for good health.
Many compared the student's sentence to those meted out for other crimes, such as the case of actress Liu Xiaoqing, who received a 400-day sentence for evading taxes on more than 10 million yuan (nearly $1.6 million).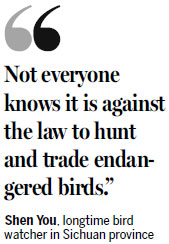 Shen You, a longtime bird watcher in Sichuan province, disagreed. The comments and the response to the question on qq.com show the public needs better education on wildlife protection, he said.
"Everyone knows it is a crime to kill a person and set a house on fire. But not everyone knows it is against the law to hunt and trade endangered birds."
Falconry, as a traditional hobby in some regions of the country, has nurtured black markets for trading birds of prey in some of the country's major cities. In Lijiang, one of the country's popular tourist destinations in Yunnan province, falconers with birds on their arms can be seen in the streets. Their "pets" all came from the black markets.
Meanwhile, the demand from Arab buyers for endangered large-sized falcons has led to the decline of the bird's population in the wild, according to a news report in 2014.
"The fact that so many people felt the sentence of the poaching case too harsh just reveals how few such serious crimes have been brought to justice," said Gou Jun, an amateur bird researcher in the Xinjiang Uygur autonomous region.
Chen Liang and Cao Yin contributed to this story.
huangzhiling@chinadaily.com.cn
(China Daily 12/05/2015 page5)