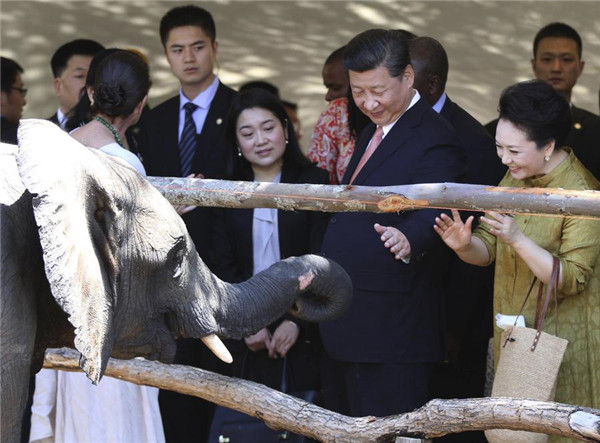 Chinese President Xi Jinping and his wife Peng Liyuan (R) watch an elephant during their visit to a private wildlife sanctuary in Harare, Dec 2, 2015. [Photo/Agencies]
Chinese President Xi Jinping said here Wednesday that his country is committed to wildlife protection and will provide Zimbabwe with more assistance for preserving the vital component of the natural ecosystem.
In a show of Beijing's dedication to the undertaking, Xi, along with his wife Peng Liyuan, squeezed a tour of a local wildlife sanctuary into their tight schedule just before wrapping up his first sta+te visit to Zimbabwe.
China attaches great importance to wildlife protection and has made remarkable progress in wildlife habitat conservation and breeding, Xi said at Wild Is Life, which shelters injured, rescued or orphaned animals.
Beijing has been cracking down on illegal trade of wild animals and animal products, including ivory, and has scored remarked progress, he said, adding that China has also been enhancing public awareness and has witnessed an increasing number of people and organizations joining the cause.
"China has earnestly fulfilled the international obligations and actively participated in international cooperation in wildlife protection," Xi said.
Pointing out that wildlife protection is one of the key areas in China-Zimbabwe cooperation, he said China will continue to help Zimbabwe improve its capability in this regard by donating equipment and conducting exchanges of experience.
Over recent years, China has intensified efforts in wildlife protection, including a harsh clampdown against illegal wildlife trafficking. In October, Chinese authorities announced a one-year ban on imports of African ivory acquired as hunting trophies.