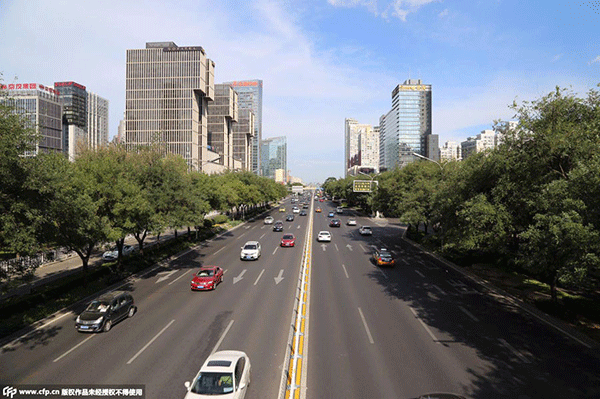 Clear and blue sky in Beijing on Aug 22, 2015. [Photo/CFP]
BEIJING - China has achieved the pollution reduction targets for major pollutants outlined in its 12th Five-Year Plan, six months ahead of schedule, Environment Minister Chen Jining said Sunday.
Nonetheless, a substantial improvement of the environment will only be possible if pollution is reduced by a further 30 to 50 percent, he said.
According to Chen, by 2014 discharge of sulfur dioxide and Chemical Oxygen Demand (COD), a measure of organic pollutants in water, had dropped by 12.9 and 10.1 percent from 2010 levels. Emissions of ammonia nitrogen and nitrogen oxide had also declined by 9.8 and 8.6 percent.
Discharges of the four major pollutants continued to drop in the first half of this year, Chen said.
In the 12th Five-Year Plan (2010-2015) China vowed to cut COD and sulfur dioxide emissions by 8 percent and ammonia nitrogen and nitrogen oxide emissions by 10 percent compared with 2010 levels.
The environment minister also noted that the surface area affected by acid rain in China had shrunk to 1990s levels, while water quality had also improved significantly.
China has phased out some 250,000 tonnes of ozone-depleting substances during the same period, he said. This is more than half of the total amount phased out by all developing countries.
"Not only are we working to fix our domestic environmental problems, we have made considerable contributions to addressing international challenges, too," Chen said.
The minister warned, however, some 20 million tonnes of major pollutants are still discharged annually in China, and that figure must be reduced by another 30 to 50 percent.
One year after the world's second-largest economy "declared war" on pollution, following decades of pursuing growth at the expense of the environment, Chinese citizens are still concerned by air quality, particularly in the big, industrial cities in the central and eastern regions.
Just this week, Beijing, and neighboring Tianjin municipality and Hebei Province experienced a spell of heavy smog which is not expected to clear until Tuesday next week.
Chen said China was committed to further reducing COD, sulfur dioxide, ammonia nitrogen and nitrogen oxide in the next five years, and will impose obligatory reduction targets for volatile organic compounds (VOC).