Tying the knot as an undergraduate has been legal for 10 years in China, but this has brought a series of challenges, report Zhao Xinying in Beijing and Tan Yingzi in Chongqing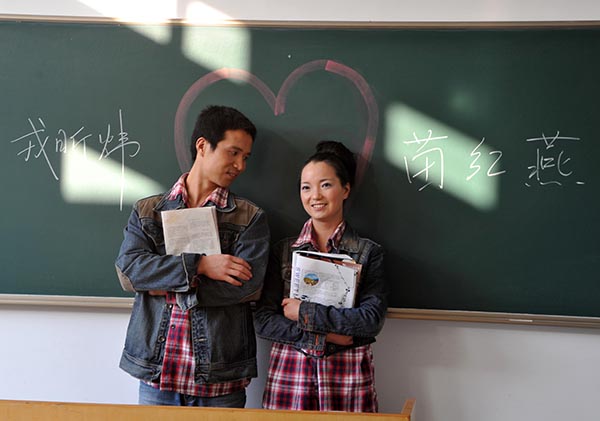 From left: Rong Xinwei and Miao Hongyan pose for a pre-wedding photo at Zhejiang Ocean College in Zhoushan, Zhejiang province, while studying there in 2006. [LINHONG SHUFAN/CHINA DAILY]
Fan Jingyu, a junior student at Xi'an International Studies University in Shaanxi province, married her boyfriend in 2013. Just eight years earlier, it would have been impossible for undergraduates to wed.
Until 2005, Chinese undergraduates were not allowed by law to marry while studying at university. Ministry of Education regulations at the time stipulated that if they decided to marry, they had to quit college.
But this began to change in 2005, when the ministry scrapped the rule, saying that undergraduates' freedom to wed would no longer be restricted under China's Marriage Law and Marriage Registration Regulations.
The new rule, which took effect from September that year, meant that undergraduates-men age 22 and above and women age 20 and above-could get married as they wished, like any other Chinese citizens.
Fan, 24, said she was lucky to have been studying at a time when the ban was lifted. "Otherwise, I would have had to make a choice between marriage and study."
She met her future husband when she went to study at the University of Sao Paulo in Brazil as a one-year exchange student in 2012. He was a student at that university and is three years older than her.
"We soon fell in love and went to register for marriage in San Paulo a year later, before I returned to China," said Fan, who graduated from the Xi'an university last year and now lives and works in the Brazilian city.
She said that when she married she did not have to comply with any procedures from her university. "I was not asked to hand in any applications.... I just told my teachers and classmates I was getting married and all of them wished me a happy marriage."
Lao Kaisheng, director-general of the National Research Society of Education Policies and Laws, welcomed cancellation of the restriction.
"It had infringed the civil rights of undergraduates, who should have enjoyed the same freedom to marry as other Chinese citizens after reaching the legal age," said Lao, who is also a professor at Capital Normal University in Beijing.
"It's good to see that the Education Ministry canceled the restriction 10 years ago to make student management regulations at universities comply with the law," he said.