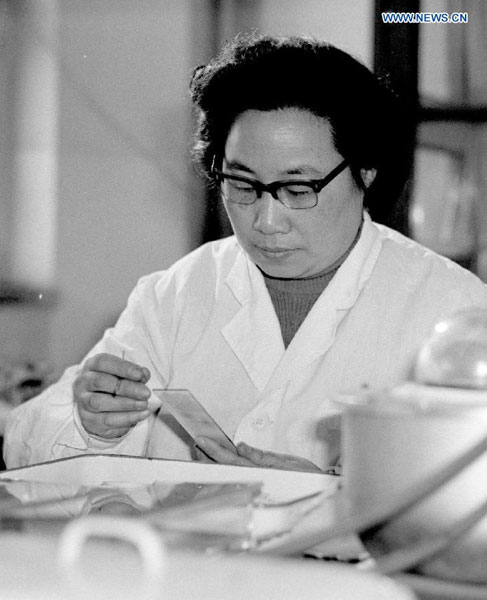 Undated file photo shows Tu Youyou, a pharmacologist with the China Academy of Chinese Medical Sciences, working to make artemisinin, a drug therapy for malaria, in 1980s.[Photo/Xinhua]
Tu and her colleagues experimented with 380 extracts in 2,000 candidate recipes before they finally succeeded in obtaining the pure substance qinghaosu, later known as artemisinin, which became the standard regimen for malaria in the World Health Organization's catalog of essential medicines.
"Your discovery of artemisinin not only explored a new research direction for the treatment of malaria - which has significant scientific meaning - it also directly benefited tens of thousands of people. Your winning the Nobel Prize is the pride of the whole Chinese science community, which will inspire more Chinese scientists," said Bai Chunli, president of the Chinese Academy of Sciences, in a congratulatory letter sent to Tu on Monday night.
In 2011, Tu was awarded the Lasker Debakey Clinical Medical Research Award, commonly referred to as "America's Nobel Prize".
Known as a herald of the Nobel, many expected Tu to win the Noble that year.
"The prize finally came," Cao said, "more than 40 years after her findings. But back then, China was not as open as it is today and she had no opportunities to publish her findings in international science journals."
"Tu's breakthrough in winning the Nobel Prize in a natural science is the pride of the whole nation and the whole Chinese scientific community," said Zhou Dejin, spokesman of the Chinese Academy of Sciences, China's national research body that comprises of more than one hundred research institutes, universities and research branches.
"The achievement of discovering artemisinin was made in 1970s, but it only received International recognition in later years, which suggests that we might have more achievements that have reached the Nobel Prize level that have not been recognized," Zhou said.
One example he gave was the synthesis of crystalline bovine insulin, which was developed by Chinese scientists in the 1960s.
New discoveries such as neutrino oscillation and nano energy are all believed to be promising contenders.
"The modern sciences originated in the Western countries, but Chinese scientists have been exploring with great efforts since we opened our door to the outside world in the late Qing Dynasty (1644-1911). Although some of our achievements have not been recognized by the Nobel Assembly, we do not feel that we are really that far behind," Zhou said.
"Now we have Tu winning the first Nobel Prize in Physiology or Medicine, we should be more confident that Chinese scientists will make more high-level breakthroughs in the future," he said.
Besides Tu, China also has other promising Nobel Prize candidates inspired by TCM according to Cao.
Chinese scientists Wang Zhenyi and Chen Zhu integrated the use of arsenic trioxide with Western approaches for treatment of acute promyelocytic leukemia, which dramatically improves the patients' survival rate.
Contact the writer at shanjuan@chinadaily.com.cn and chengyingqi@chinadaily.com.cn