Operations have started to clear thousands of land mines from a section of the Sino-Vietnamese border, with the aim of safeguarding lives, freeing up large amounts of land for local farmers and boosting living standards, as Xu Wei reports from Malipo county, Yunnan province.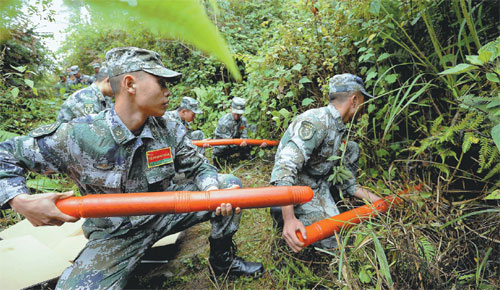 Soldiers use Chinese-made mine-clearing equipment in Yunnan province in November. About 470,000 land mines are thought to be buried in areas along the Sino-Vietnamese border in the southwestern province. Photos by An Yuan / China News Service
Even though a stark sign warning of hidden land mines stands just 30 meters from Wang Qingming's home, the 41-year-old farmer has been injured three times after entering into the danger zone.
Like many residents of Balihe village in the Wenshan Zhuang and Miao autonomous prefecture, Wang has never known a time when land mines didn't pose a threat to life and limb.
The area in the southeast of Yunnan province, close to the Sino-Vietnamese border, was a major battleground during a series of border conflicts between the two countries that flared up sporadically from the late 1970s to 1989.
Tens of thousands of mines were left behind when the fighting finally ended.
The situation may soon change. This week, People's Liberation Army soldiers began demining operations on Dongshan Mountain, the scene of several battles during the border conflicts.
Wang has lost an eye and a leg, and still has more than 80 pieces of shrapnel embedded in his body after accidentally stepping on land mines.
"There were simply too many of them. Maybe I am lucky to have survived in the first place," he said.
Wang is one of 33 Balihe residents to have been injured by land mines. He was first injured in 1986, when he was just 12 years old. "I was bringing the buffalo back from the mountain when a mine exploded. I was too shocked to even feel the pain," he recalled. The accident cost him an eye.
His second injury happened in 1989, also on his own land, and although his life was not threatened, his right leg was so badly damaged it had to be amputated. In 2004, he was injured for a third time as he restored farmland at a former military facility and a mine exploded as he dug into the cement base. His wife left after his third injury, leaving him and their daughter behind.
According to a recent statement from the Yunnan Military Area Command, about 1.3 million land mines and 480,000 pieces of ordnance, such as grenades and artillery shells, were left in the Yunnan section of the border at the end of the conflict.
Since 2000, there have been 81 incidents involving land mines in the prefecture, leaving 12 people dead and 76 maimed, according to the area command. Even after two large-scale clearance operations from 1992 to 1994 and 1997 to 1999, about 470,000 mines and 157,000 ordnance pieces remained.
On Nov 3, the PLA launched a third clearance mission in the prefecture. The operation has given residents fresh hope of a life free from the threat of injury or death. The mission targets 95 minefields in an area of about 52 square kilometers, and aims to clear as many mines as possible, and seal off areas where demining operations are too dangerous or difficult to conduct, before 2017.
"Everybody is hoping that this land will be forever free of mines and terror," said Wang Kaifu, the village head.
"The mountain used to give us everything: firewood, food for our livestock and herbal medicines. We just want it back to how it was before," he said.
Lives on the line