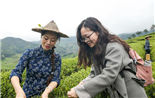 2019-04-18
Folk cultural activity held to pray for harvest of tea in Fujian
2019-04-16
A weekend music program was launched in Jimei district of Xiamen on April 13, with 12 university students staging multiple performances from singing and dancing to poetry reciting.
2019-04-15
40-plus exquisite lacquer thread sculptures created by six artisans of the Cai School are on display at the gallery. As a unique type of folk artwork with a long history, lacquer thread sculpture in Xiamen was listed as a national intangible heritage in 2006.
2019-04-12
In pics: Tourists experience tea picking in Mount Wuyi
2019-04-10
A grand ceremony to worship tea gods was held in Zhanbing village, Tong'an town, Yongtai county of Fujian province on Apr 3, marking that spring tea produced in the region is set to hit the market.
2019-04-08
People of She ethnic group staged a raft of activities on Apr 7 to celebrate the Sanyuesan Festival in Fuhu village of Luoyuan county in Fujian province.