2018-08-22
Lying on the southeastern coast of China and bordering Zhejiang province, Jiangxi province and Guangdong province, Fujian faces Taiwan across the Taiwan Straits and is one of the closest mainland provinces to Southeast Asia and Oceania. It is an important window and base of China for global exchanges.

2018-08-22
A coastal province in the southeastern part of the country, Fujian has seen rapid development in the past five years.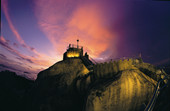 2013-08-19
Fujian was called the Region of Minyue (Seven Min Tribes) in ancient times. During the Qin Dynasty (221–206 BC), the prefecture of Min-Zhong was launched to govern Dongye (now called Fuzhou).

2013-08-12
A majority of Fujian's people speak Mandarin, which has been the medium of education in China since the 1950s and is the main language in Fujian. The province does, however, have many of its own dialects. The terrain is mountainous and, at one time, nearly every valley had its own language.