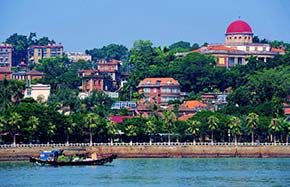 2017-09-04
China's Gulangyu Island was issued a certificate of the world heritage site by the UNESCO Director-General Irina Bokova on Monday, making the nation possess the most world heritage sites worldwide.
2017-09-04
Fujian province in East China is famed as an intangible cultural heritage hub for its profound and rich multiculturalism, as well as its close connections with Taiwan.
2017-09-04
For Chen Lizhong, an inheritor of Shoushan stone carving, sculptors record an era with their chisels - just like writers with their pens.
2017-09-04
More than 10 ancient villages in Fujian province joined the designated ranks of China's most beautiful rural areas at a recent tourism summit.
2017-09-04
With villages of stone houses, flashing blue waters and wet sea winds, Pingtan, a group of remote islands off eastern Fujian province, hopes to welcome more tourists to experience its relaxing and simple lifestyle.
2017-09-04
Some people say, if you know Siming district well, then you will really know the city of Xiamen in Fujian province. If visitors take the time to roam the streets and city blocks, then they will know that is true.