2018-03-22
egret perches on a partially moss-covered tree branch. The photo is taken in the West Lake Park in Fuzhou, capital city of Fujian province on March 18.
2018-03-13
A grand cultural festival celebrating the sea goddess Chen Jinggu was held on March 10 in Fuzhou, capital city of Southeast China's Fujian province.
2018-03-15
Among the 130-odd types of Shoushan stones mined in Shoushan village, East China's Fujian province, Huakeng stone is a more readily available and less precious type compared with other rare ones.
2018-03-16
After a long winter, willow trees have been seen showing signs of new life, with brightly colored flowers blooming on its branches.
2018-03-16
"Zhuangzhai" are ancient fortified buildings scattered across the mountains of Yongtai county. The county now has 152 well-preserved "Zhuangzhai", which conserve the architectural art and craftsmanship of its era, and also represent local folk culture.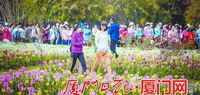 2018-03-06
A brisk walking activity was organized by the Women's Federation of Xiamen, Fujian province on March 3 to celebrate the upcoming Women's Day, according to Xiamen Daily.