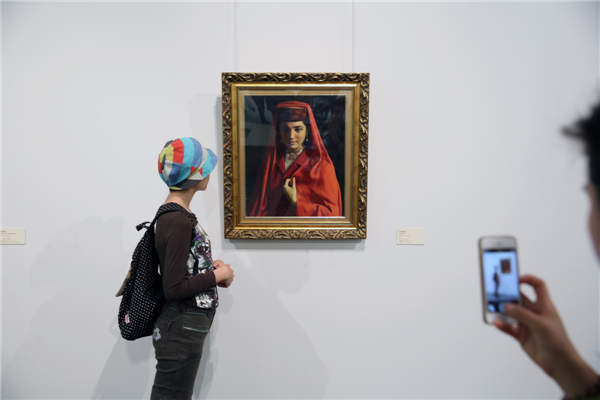 Visitors pose for photos at the Dadu Museum of Art on Sunday. Photos by Jiang Dong
After a trial operation of seven months, the Dadu Museum of Art, China's first private oil painting museum, officially opened to the public on May 18.
The opening exhibition, entitled Experience China: Exhibition of Chinese Contemporary Oil Painting, features 61 paintings by about 30 Chinese artists, demonstrating China's oil painting development over the past century.
The works on display included paintings by Jin Shangyi, Zhan Jianjun, Shang Yang and Yang Feiyun, depicting aspects of Chinese society in styles including realism, abstract art and genre painting.
The exhibition was also shown in Paris in March as an exchange with the art world of France.
"Compared to the West, we still have a distance to go in terms of painting technique, but in terms of concepts and ideas, we have kept pace with them," said Jin Shangyi, director of the Dadu Museum of Art.
The show will run until June 22 in Beijing.