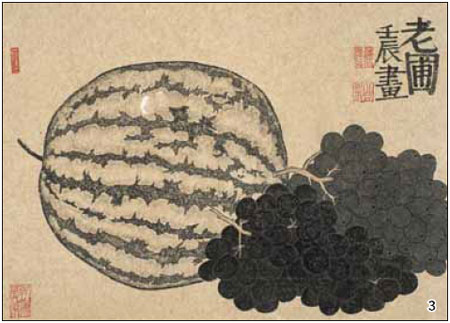 Watermelon and grapes.
"Natural things are great mentors of your soul. They serve as a mirror to help you observe yourself," he said.
Lao Pu said the humble vegetables and crops help him understand the rules of life.
"Whether they are strong or weak, they shoulder the same mission - to grow from the earth and then return to earth after they give life to a new generation. They represent the essence of nature," he explained.
"This is the rule of life, in a form of great simplicity," he added.
"Simplicity is what I pursue in my paintings," Lao Pu said.
The artist usually depicts one or two objects in his paintings with a simple and pure background.
The works are predominantly black and white, avoiding the "confusion of multiple colors", said the painter.
His art combines realistic and expressionist styles, presenting both the vivid image of objects and his own expression.
He uses the skills of Western painting in details like spatial layout.
"The spatial layout is so delicate that you cannot remove or add even a single brush stroke on his painting. If so the aesthetics will be totally destroyed," said Xu Dingyi, a Beijing painter and art critic.