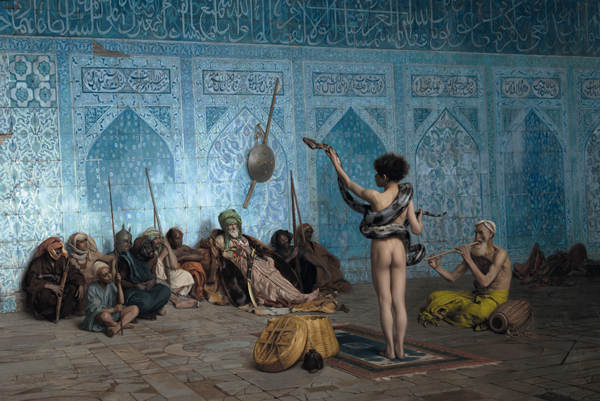 The Snake Charmer, by Jean-Leon Gerome, is displayed in Barbizon Through Impressionism exhibition in Shanghai. Photo provided to China Daily
A group of paintings by some of the most respected Impressionist artists has attracted unprecedented crowds to the Shanghai Museum. Zhang Kun joins the visitors for a glimpse of the treasures.
Impressionist masterpieces by Monet and Renoir among other renowned artists has drawn crowds willing to wait for hours in front of the Shanghai Museum for a chance to see the show.
The exhibition, Barbizon Through Impressionism, consists of 73 paintings from the Clark Art
Institute from the United States. The show started on Sep 19 and will run till Dec 1. This is the first time the Shanghai Museum has presented an exhibition of Impressionist paintings.
"Many of the artists are very famous, such as landscapes by Monet, portraits by Renoir and ballerinas by Degas, and have attracted more visitors to Shanghai Museum than usual," says Chen Yunke, from the publicity department of the museum.
The opening day of the exhibition coincided with the Mid-Autumn Festival. The museum that typically receives up to 6,000 people a day saw 9,000 visitors every day during the vacation.
"People would have to wait at the gate for more than an hour before they could come in, because we have to limit the number of people in the museum," Chen says. Even on work days, people are waiting in lines in front of the museum.