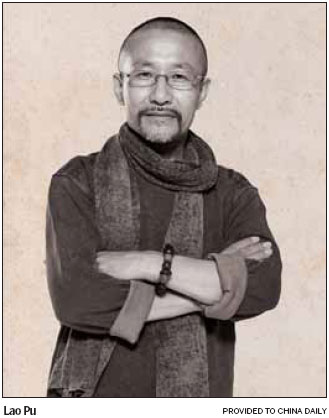 Painter Lao Pu finds a deeper meaning in humble farm produce, Zhao Shijun reports.
In traditional Chinese painting, artists usually have favorite subjects that express their personal feelings and tastes.
Those subjects could be people - Buddhist and Taoist figures, officials or ordinary people like farmers, woodsmen and fishermen - or landscapes, plants and animals, each with a significance relating to the painter's religious beliefs or understanding of life, nature and even aesthetics.
Only a small number of artists touch on the subject of humble vegetables and crops. Contemporary Beijing painter Lao Pu - a pen name meaning "old vegetable farmer" - is one of them.
His inclination stems from his childhood experiences.
Born in a farmer's family in 1955 in the suburbs of Beijing, his real name is Bai Jinghai.
When he was a child, he enjoyed helping his family by growing crops and vegetables or herding. He also liked to portray animals, vegetables and people on the village walls or even on the ground.
He might have become a devoted farmer if he hadn't met renowned Beijing painter Lin Kai when he was a teenager.
Lin went to his home village to sketch local life and Lao Pu's family offered him lodging.
Lin was impressed by the youngster's rough but passionate works and offered to teach him.