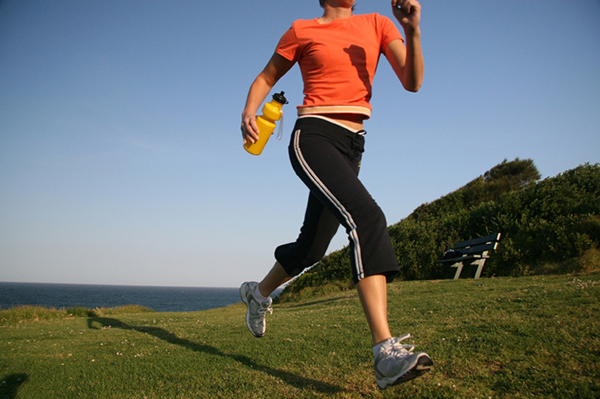 More and more Chinese are jogging to get and stay fit.  [Photo/CNTV]
More and more Chinese are jogging to get and stay fit. Most joggers will run alone, but some will jog with friends or even coaches.
The Beijing Olympic Forest Park is one of the most popular spots. It is packed with runners in the afternoon, usually after work, and at weekends.
Jogging after a whole day's work can be a way to unwind. It is true for He Wenjun, whose workplace is right near the forest park.
She discovered her athletic aptitude at the age of seven, when she began playing tennis. Then she turned to jogging, and she has persevered with it for 10 years.
"I come to jog almost every day after work, whenever I have time. I think jogging is good for my health. And for me, a girl, it helps me to achieve to eternal goal, to keep slim," He said.
He says she prefers jogging alone, so she can focus better. She loves jogging, even during Beijing's smoggy days.
"If the smog is severe, I'll hold off jogging for a while. But if I really want to get away from work, I'll wear a mask, or just ignore the smog and go on jogging," she said.
For those who are not so athletic, jogging also has its attractions.
Wu Houbin started roughly two years ago, when he was severely obese. Within two months, his weight dropped from 82 kilograms to 64 kilograms. The success helped him recover health, and he has made friends.
"Jogging does not require speed, but stamina. If you want to stick to the game, you need to take it as a mission, a habit, and then eventually a hobby," Wu said.
But persevering with jogging is not always easy.
Jogging is beneficial for heart-lung function, and the skeletal system, but doctors say improper technique damages the joints, especially the knees and ankles.
"Excessive jogging wears down the body, and harms one's health. Poor technique harms the muscles and skeleton, and can cause secondary injures. And, jogging in a bad environment can cause circulation problems," said Lu Zhiyong, attending doctor, Sports Hospital, General Admin. of Sports.
Dr. Lu has some tips for joggers, and those who are thinking of taking it up.
He says people should first evaluate their physical condition, to decide the amount and type of exercise, and jogging in the open air is better running on a treadmill.
It is recommended to jog three or four times a week, and 30 to 60 minutes each time. The best time to jog is around 4 p.m.–5 p.m.