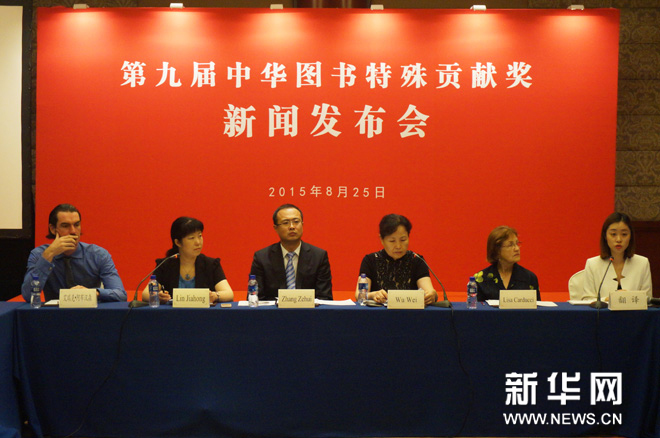 A press conference for the 9th Special Book Award of China was held in Beijing on Tuesday. [Photo/Xinhua]
The press conference of the 9th Special Book Award of China was held in Beijing on Tuesday. Twenty Sinologists from 16 countries won the prize from among 177 candidates.
The national-level award was set up by General Administration of Press and Publication (GAPP) in 2005 for foreign writers, translators or publishers who made contributions in popularizing Chinese books, or promoting cultural exchanges between China and the world. At the award's 10th anniversary, GAPP increased the number of winners from 10 to 15, set up a Youth Award for five winners and expanded the scope of candidates.
Winners of the award include Australian Sinologist and writer Colin Patrick Mackerras, Australian translator and professor of Sinology John Makeham, Canadian writer Lisa Carducci, Chinese French translator and writer Francois Cheng, French Sinologist Joël Bellassen, German Sinologist Helwig Schmidt-Glintzer, Dutch translator and Sinologist Wilt Idema, Laotian writer Keo Mackaphonh, Mongolian translator and professor Menerel Chimedtseye, Polish publisher Adam Marszalek, Russian Sinologist and translator Leonard Perelomov, Slovakian translator Marina Čarnogurská, Spanish publisher Angel Fernandez, American publisher Robert Baensch and American Sinologist Guy Salvatore Alitto.
In addition, Egyptian publisher Ahmed Sayyid, Chinese-Burmese translator Guang Min, Hungarian translator Zombory Klara, Jordanian writer and translator Samir Ahmed and American translator Eric Abrahamsen won the Youth Award.
Even now, most foreign readers know little about Chinese contemporary literature. In an recent interview with the Beijing Times well-know writers such as Yu Hua and Xu Zechen complained that it is difficult to find Chinese literary works in bookstores abroad. In this case, foreign translators and publishers perform an important role in cultural exchange.
Zhang Zehui, deputy director of the Import Management Division in GAPP, said at the press conference that along with "Mandarin fever" and "China fever" around the world, more foreign translators, publishers and writers are making contributions on culture exchanges between China and the world, so they increased the number of winners as an encouragement.