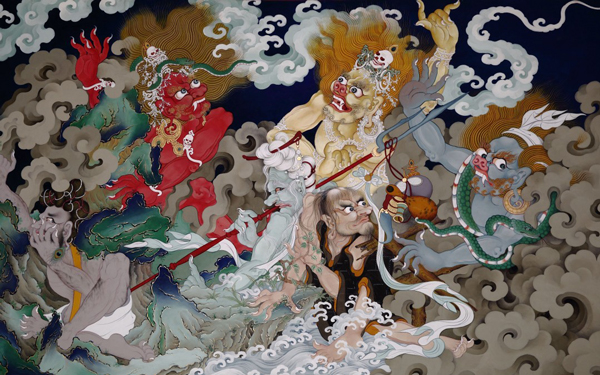 A Tangka work by Geng Tai. [Photo/CNTV]
Tangka painting is widely regarded as the epitome of Tibetan art, but it is an artform treasured the world over. And Tangka is now taking center stage in Shenyang, in northeast China's Liaoning province.
With its Buddhist themes and historical figures, Tangka is an elaborate art, requiring painstaking attention to detail as artists apply mineral and plant pigments to cloth scrolls.
On display at the Shisheng Temple are some 30 works in the Miantang style, one of the four major schools of Tangka. Most are by Geng Tai, who inherited the Miantang approach from his father.
One distinctive quality of the artform is that the pigments become even more bright and colorful with time.
Tangka is billed as the "Encyclopedia of Tibet" by depicting a wide range of its history, politics, culture, and social life. It is also listed as a world intangible heritage.
The exhibition runs to the end of August.