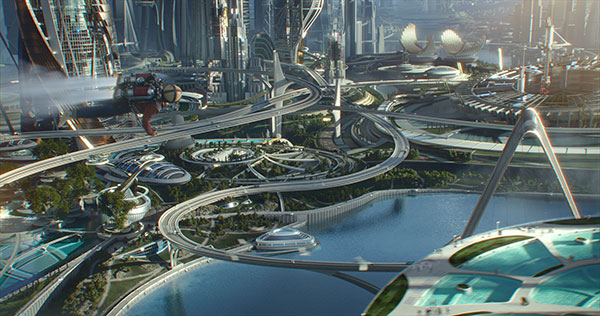 Hollywood's sci-fi movie Tomorrowland premiered in China on May 26. It was hoped that the Chinese market would save the struggling film. [Photo/China Daily]
After struggling in the US box office, many films become surprise hits in China, but can the trend continue? Xu Fan reports.
Has China become the knight in shining armor to save Hollywood flops?
That question, posed by a recent article in business magazine Forbes, is raising eyebrows from blockbuster enthusiasts and industry insiders in the world's second-largest cinema market.
In a story headlined "Can China save Disney's Tomorrowland?" Forbes suggests the Middle Kingdom has become a second-chance "haven" for big-budget Hollywood productions that have struggled in their own markets.
The article even predicts the sci-fi movie Tomorrowland may be saved by the Chinese market, although this is beginning to seem unlikely.
Despite the film's major stars, George Clooney and Brittany Robertson and director Brad Bird flying to Shanghai to build up hype ahead of the Chinese mainland premiere, the movie only grossed a soft 15.7 million yuan ($2.5 million) on the first day of release on May 26.
Compared to the 220 million yuan taken by Marvel's superhero flick Avengers: Age of Ultron, and 88 million yuan taken by Japanese animation Stand by Me Doraemon, the $190 million Tomorrowland is regarded as receiving a "so-so" reception by Chinese industry insiders.
With an average score of only 6 out of 10 on several major movie-review websites, the movie, having the same name with a theme land in the Disneyland resort, has been criticized by many moviegoers for looking like "an extended version of an advertisement" to promote the amusement park.
Although China may fail to rescue Tomorrowland, the massive Chinese market, which sold 830 million tickets in more than 5,100 cinemas nationwide to gross a record box office of 29.6 billion yuan last year, has been known to save other big-budget Hollywood movies that had poor receptions in the North American and European markets.