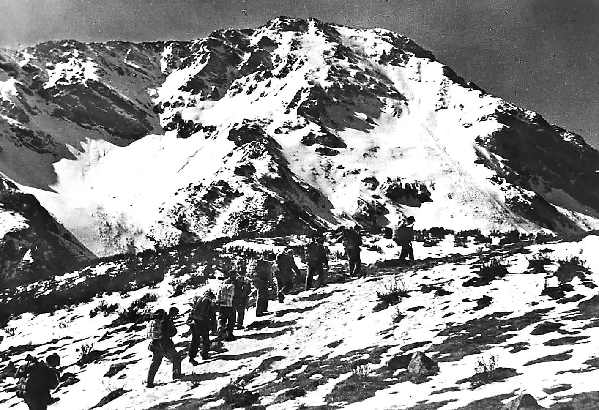 The Red Army climbs snow-covered mountains during the Long March. [File Photo]
Plans are underway to turn China's historical Long March route a World Cultural Heritage, according to the latest proposal issued by Sichuan's scholars and officials at a seminar held on April 18 to mark the 80th anniversary of the Red Army's passage in Luzhou city, Sichuan province.
The Long March refers to the military retreat undertaken by the Communist party's armed forces during 1934 to 1936. It was a long journey that stretched 25,000 kilometers, crossing 15 provinces and more than 20 mountains. The two-year march created the foundation for communist party's victory.
The proposal was first mentioned in 2011 by Li Houqiang, the CPC party secretary of Sichuan Academy of Social Sciences, and his colleagues. The idea was warmly received by the other 14 provinces, cities and autonomous regions along the Long March route. After four years'effort, the research work of the route in Sichuan province and its cultural heritage has already been finished.
Li Houqiang said the march's huge scale and enormous difficulties are rarely seen in human history. He said the march itself represents the toughness of human spirit and the strength of faith. It is the cultural and spiritual treasure for all humankind, regardless of their nationalities and races.
The Long March has been recorded and remembered by many western journalists, historians and socialists. Books such as Rudolf Bosshardt's The Restraining Hand (1936) and Edgar Snow's Red Star over China (1937) have recalled the unforgettable memories of one of the most significant marches in human history and its spiritual and cultural value.