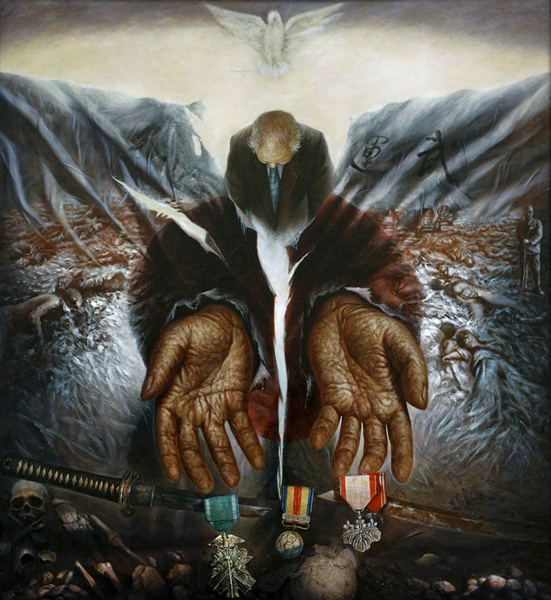 The exhibiton "who can give us peace" was held at the European Parliament on March 31.[Photo/Xinhua]
A renowned quote from philosopher Ralph Waldo Emerson says that peace can not be achieved by violence, it can only be achieved through understanding.
An international painting exhibition held at the European Parliament on March 31 provided an opportunity for people to review history and showcase the will and aspiration for peace, as this year marks the 70th anniversary of the victory of the World War II.
The exhibition, with the theme of "who can give us peace", collected over 100 pieces of fine works of art by 65 artists from about 30 countries.
In the paintings, the smoke of battle left by fighters unveiled people's fear in the war; the clustered bodies of the Chinese people killed by Japanese soldiers demonstrated the terror of the Nanjing Massacre; and the innocence of lovely boys in Auschwitz Concentration Camp made people who attended the exhibition feel deeply sad.
"Focusing on the theme of peace, these pieces of work of fine arts unfolding before us display with overwhelming passion and visual impact the horrendous atrocities of war of aggression committed by fascists and Japanese militarists, the solemn and heroic epic of justice over evil and peace over war, the staunchness and nobility of all those who fought and sacrificed their lives for peace, dignity and freedom," said Ambassador Yang Yanyi, head of the Mission of China to the European Union.