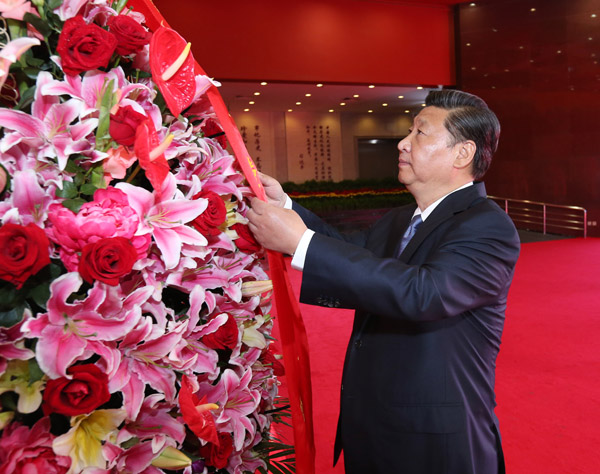 President Xi Jinping presents a flower basket at a ceremony in Beijing on Wednesday marking the anniversary of China's victory over Japan in World War II. Below: Veteran Sun Yingjie, 94, salutes at a ceremony in Taierzhuang, Shandong province. The Battle of Taierzhuang in 1938 marked the first major Chinese victory of the War of Resistance against Japanese Aggression. [Photos by Pang Xinglei and Guo Xulei / Xinhua]
President Xi Jinping and the six other members of the Politburo Standing Committee made a rare public appearance together at a commemorative event marking the 69th anniversary of China's victory over Japan in World War II.
Observers said their attendance highlighted Beijing's commitment to peaceful development and the importance of acknowledging the past — a repeated failure of some Tokyo politicians.
The nationally televised ceremony was the first to mark Sept 3 as the anniversary of victory day, and was the second high-profile event in two months related to Japanese wartime aggression that Xi has attended.
Less than two months ago, Xi appeared at an event marking the 77th anniversary of the start of the War of Resistance against Japanese Aggression (1937-45), which began as a skirmish between Chinese and Japanese troops in suburban Beijing near Lugou Bridge, also known as Marco Polo Bridge, triggering full-scale war.
Sino-Japanese ties suffered a severe setback two years ago when Tokyo "nationalized" China's Diaoyu Islands in the East China Sea.
The relationship was further strained by Japanese Prime Minister Shinzo Abe's visit in December to the Yasukuni Shrine, which honors Japan's war dead, including several Class A war criminals.
"The foundation of the relationship was undermined by the Abe administration's insufficient reflection about wartime history," said Li Wei, director of the Institute of Japanese Studies at the Chinese Academy of Social Sciences. "China wants to demonstrate that it cares about the relationship and to urge the Japanese government to take measures to repair it."
Li was referring to the creation of three annual commemorations linked to Japan's wartime atrocities this year, which also include Martyrs' Day on Sept 30 and Nanjing Massacre Victims Day on Dec 13.
Wang Xinsheng, a professor of Japanese studies at Peking University, said the commemorations signaled a determination to pursue a path of peaceful development.
It is estimated that 35 million Chinese died from 1931 to 1945 as a result of Japanese aggression.
China's top leaders placed seven sedan-sized flower baskets in front of sculptures of martyrs on Wednesday, in the presence of hundreds of veterans, military personnel, schoolchildren and young people in traditional ethnic dress.