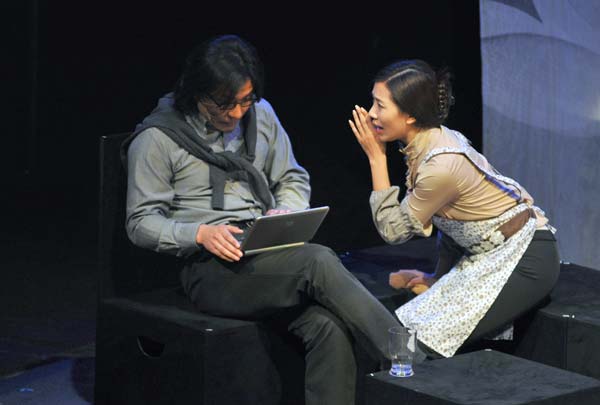 The maid (played by Jian Renzi) alerts her employer (played by Sun Xiaolele), a new arrival from the US who has just started his high-tech company in Shanghai, to the hidden dangers of the city's glitter.Photos by Li Yan / For China Daily
Film critic Raymond Zhou presents a stage drama about power as his playwright debut. Zhang Kun reports.
Chinese critics sometimes are challenged by artists, authors or filmmakers who receive negative reviews and who respond by saying: "You can you up."
The Chinglish phrase can be translated in English to mean: "Why don't you do it yourself?"
Raymond Zhou, arguably the country's most famous film critic and a China Daily columnist, replied to this challenge with a play he wrote and directed.
The Ring Road is Zhou's debut as a playwright. He wrote the play in English in 2007. It was staged at a theater festival in California in 2010.
It was Stan Lai who suggested that his production partner, Beijing Magnificent Culture Co Ltd, present the play in Chinese.
"I agreed on the premise that I myself direct the production," Zhou says.
Within China's present TV and filmmaking mechanism, writers rarely become involved in shooting and editing. Zhou believes that's a serious problem that undermines quality.