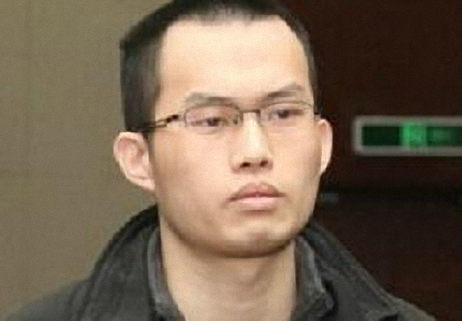 Lin Senhao, former medical student who poisoned his roommate. CHINA DAILY
China's top court approved the death sentence of a former medical student who poisoned his roommate, a lawyer for the family said on Wednesday.
Xie Tongxiang, the lawyer representing the family of Lin Senhao, 29, said Lin's father had received a notice from a Shanghai court on Tuesday in which a judicial official said the Supreme People's Court had approved a lower court's decision in the case, and said he could see his son before Friday.
Lin was sentenced to death in the first trial at Shanghai No 2 Intermediate People's Court in February 2014 for killing his roommate, Huang Yang, by putting a deadly poison in Huang's water dispenser at Fudan University in Shanghai. Huang died in April 2013 of liver, kidney and lung failure after suffering two weeks of illness.
On Jan 8, Shanghai High People's Court upheld the death sentence and submitted its judgment to the nation's top court for review. The top court approved the judgment, Xie, the lawyer, said. Such approvals generally clear the way for executions.
A report on Wednesday in Huaxi Metropolis Daily also quoted the father as saying Xie had confirmed the top court's decision.
Contacted by China Daily on Wednesday, the information office of the Supreme People's Court said only that the court was "aware" of the news report but wouldn't confirm the court's decision. Calls to the court's criminal division were not answered.
Huang Guoqiang, the father of victim Huang Yang, was quoted in the Legal Evening News in Beijing as saying he was relieved when he heard that the top court had upheld the death sentence, saying it provided fairness for his son.
"We had a tomb sweeping for Huang Yang after we heard the news," the newspaper quoted Huang as saying.
Lin Zunyao, the father of the former medical student, could not be reached for comment, but Huaxi Metropolis Daily quoted him as saying that he couldn't sleep after receiving the Shanghai court's notice and that he went to Beijing on Wednesday.
"I was muddled and didn't know what to do," the paper quoted him as saying.
His wife "can't sleep or eat. Instead, she is always crying", Lin told the paper.