Xi, Putin agree to actions on connectivity proposals
By FU JING and WU JIAO in Ufa, Russia ( chinadaily.com.cn )
Updated: 2015-07-09 00:28:34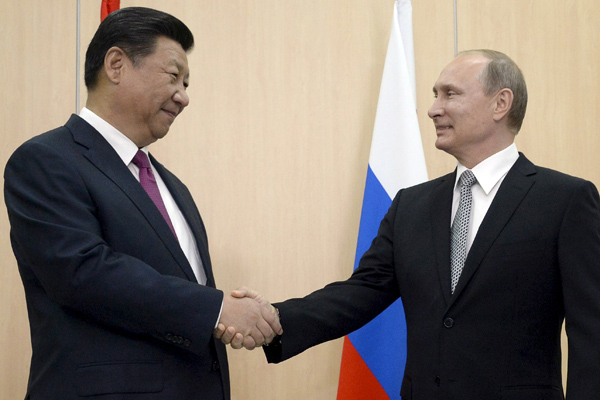 Russian President Vladimir Putin (R) shakes hands with Chinese President Xi Jinping during a meeting in Ufa, Russia, July 8, 2015. [Photo/Agencies] 
Chinese President Xi Jinping and Russian President Vladimir Putin on Wednesday reached a comprehensive consensus on "mechanism, areas and projects" to connect China's Silk Road proposals and Russia's initiative on a Eurasian Economic Union.
Gui Congyou, senior official of the Foreign Affairs ministry, made the announcement at a briefing in Ufa after the two leaders met.
The consensus comes just two months after Xi and Putin announced at a meeting in May in Moscow that they would connect the two proposals.
Gui said the Xi and Putin held a "long-time, deep and fruitful" meeting before the BRICS and the Shanghai Cooperation Organization summits are held from Monday to Friday.
He also said Xi and Putin have agreed that all members of Shanghai Cooperation Organization will be the "first platform" to implement projects under the mechanism of connecting China and Russia's proposals of connectivity in Asia and Europe.

We will not give up search, Li vows
International hunt for missing airliner continues after fruitless six-day search