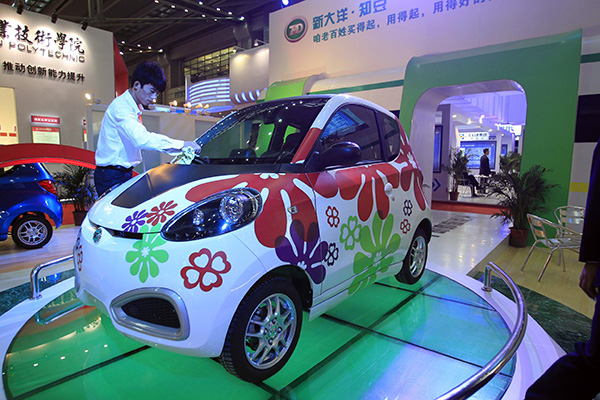 A Xindayang electric vehicle is displayed at a show in Shenzhen. The company has to produce its cars at the Zoyte and Geely plants because it lacks a car manufacturing qualification. [Photo/China Daily]
Report proposes measures to upgrade system, boost efficiency of government administration
The administrative mechanism in China's auto industry is outdated and needs to be upgraded, according to this year's China automotive Industry Development report, released on Aug 31 in Beijing.
Also known as the 2015 auto Blue Book, the publication analyzes the sector's governing system. The latest report reviewed the history of reform in China's auto industry management and proposed structural reforms to update the system.
The report, jointly composed by the Development Research Center of the State Council, the Society of automotive Engineers of China and Volkswagen Group China, found there is an urgent need for further reform, and proposed 10 measures after discussing approaches and directions.
The blue book also suggests ways to boost the efficiency of government administration in the sector.
Volkswagen Group China Executive Vice-President Zhang Suixin said the current management system still maintained the fundamental concepts used 21 years ago.
It restrains investment and restricted entry to the industry, which is far behind the desired rate of development, and causes problems, he said.
Liu Shijin, former deputy director of the Development Research Center of the State Council, said: "Existing and emerging problems weren't solved, although we considered them for a long time. The necessity of reform stands out at this moment when auto market growth is slowing."
He emphasized innovation, industry entry and exit as three major aspects for management structure reform, as the auto industry elsewhere is leading a new industrial revolution. Disruptive technology changes require adaptive reform or anticipatory adjustment of the governing system, he said, so as to accelerate sustainable and healthy development of the industry.
"If these problems are left unsolved, they will influence the automotive industry's future development in China. The industry's development is not only about quantitative growth, but more about restructuring, better quality and stronger competency," Liu said.
Fu Yuwu, secretary-general of the Society of automotive Engineers of China, said: "Some policies made by government agencies are themselves unlawful. They neither passed State Council discussion, nor followed the government administrative system."
Innovations needed
Liu forecast that the boundaries of the automotive industry would be blurred in the future, and that innovations could come from Internet technologies, despite the current government administration not granting such opportunities or possibilities.