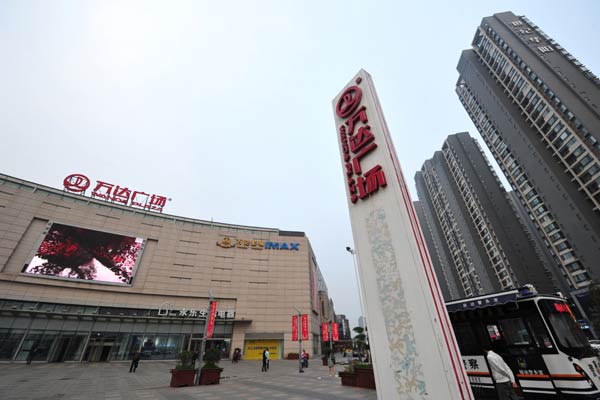 Wanda Plaza in Luoyang city, Central China's Henan province, Oct 11, 2014. [Provided to China Daily]
Dalian Wanda Commercial Properties Co Ltd and Suning Commerce Group Co Ltd signed a joint development agreement on Sunday, bringing together two of China's largest commercial giants.
Under the agreement, Suning Commerce will open stores at Wanda Plaza properties and deepen cooperation with Wanda E-commerce.
Suning will run its branded stores at Wanda Plaza properties that have opened or are about to open. There are 40 projects among the first batch of the cooperation. From next year more collaboration will be carried out according to the development of Wanda Plazas and Suning's needs.
Wanda Commercial is the world's largest real estate developer and operates Wanda Plaza, China's largest offline commercial platform.
By the end of this year Wanda Commercial will have opened 135 Wanda Plaza projects across China with combined annual foot traffic of 2 billion, and the company is expected to reach 500 Plazas and 10 billion customers annually by 2020.
Suning Commerce is China's largest retail business with more than 1,600 physical stores, boasting an online retail unit that ranks among the top three B2C operators in the country. Based on its online and offline operations, Suning is an industry leader in the O2O business model and offers an array of products, including home appliances, 3C (Computer, Communication and Consumer electronics), maternal goods, general merchandise, household necessities and apparel.
Industry experts said the partnership is of significance to both parties as it enables them to maximize their respective business strengths and complement mutual advantages.
For Wanda Group, Suning brand stores broaden Wanda Commercial's product offerings and enrich customers' experience consumption at Wanda Plaza. With Wanda Plazas carrying out an "Internet+" strategy to integrate online and offline resources, the cooperation with Suning will accelerate the process. Wanda Commercial has revamped Wanda Department Stores to pave way for the cooperation with Suning, whose brand stores will open in Wanda Plazas soon after the signing of the contract.
For Suning, due to continued growth in consumerism, e-commerce alone isn't enough to satisfy the multi-faceted experiential demands that customers have for quality and personalization. By integrating its online and offline platforms, Suning will be able to offer unlimited products and services on its online cloud platform. Wanda Commercial will provide property and foot traffic for Suning's physical stores, which will launch in already opened and future planned Wanda Plazas.
"Suning spent six years building its commodity supply chain, logistics distribution and after-sales service which it refers to as its 'Retail CPU'", said Zhang Jindong, chairman of Suning Commerce.
According to Wang Jianlin, chairman and CEO of Wanda Group, this partnership provides a significant boost to both Wanda and Suning. Integrated O2O operations are a growing trend and shopping malls and e-commerce stores are not going to cancel each other out but complement each other well.
"Our cooperation aligns with the larger trend of our times to explore a new path for Chinese businesses to transform and upgrade themselves in the Internet age. With our ongoing push towards the 'Internet+' strategy, shopping malls are expected to achieve greater momentum and a brighter future," said Wang.