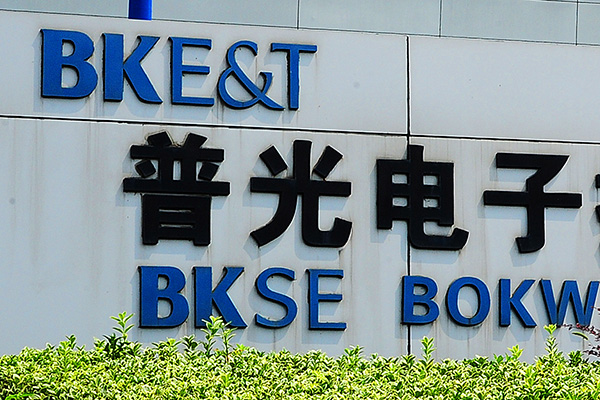 BKSE Bokwang (Suzhou) E&T Co Ltd's factory in Suzhou, Jiangsu province. [Photo provided to China Daily]
The decision by BKSE Bokwang Suzhou E&T Co Ltd to close its Wujiang factory in June left workers shell-shocked and local authorities dismayed.
At one point, BKSE employed 1,000 staff and was the largest printed board assembly maker for Samsung Electronics Co Ltd, the South Korean smartphone and tablet giant.
But before putting up the shutters, that number had been reduced to 600 as the company struggled to compete against cheaper rivals and sagging sales of smart devices globally.
Staff were originally told they would have to take a one-week holiday. But the factory gates never opened again, which left authorities at the Wujiang Economic and Technology Development Zone in Suzhou, Jiangsu province, amazed. "We were totally unaware of the operation of this company in recent years," Zheng Yi, deputy director of the administrative committee of the zone, said.
"But we learned from the employees that Samsung was their only client and that orders had continued to contract dramatically."
Workers made redundant were given compensation based on the number of years they served.
Zheng Xiaomin, 27, spent the past five years at BKSE Suzhou, which is South Korean-owned, and loved working for the company.
"When they decided to close the factory, it came as a total surprise," Zheng, who was a workshop director, said. "The company was our pride and joy."
In fact, the parent company of BKSE Suzhou, BKE&T, had already applied for bankruptcy protection in South Korea, according to the company's labor team in China.
The decision was made on the back of falling sales from Samsung. In the second quarter, the major smartphone brand reported that profit was down by 4 percent to $6.13 billion globally compared to the same period last year.