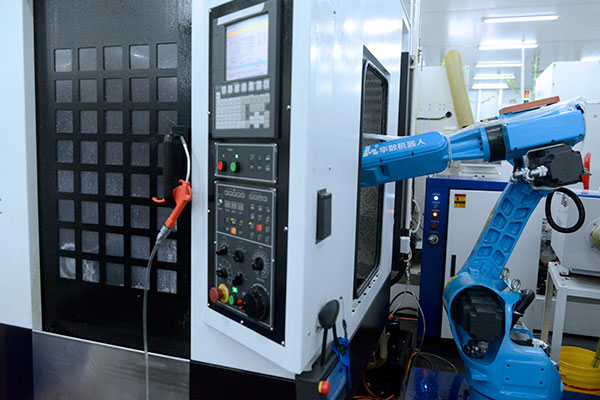 An assembly line at Dongguan Janus Precision Components Co Ltd, a structural parts supplier for Samsung mobile phones in Dongguan, Guangdong province. It said revenue from Samsung-related deals decreased in the first six months.[Photo provided to China Daily]
Samsung Electronics Co Ltd's Chinese supply chain partners are feeling the chill in the hottest part of the year after the South Korean giant took a hit in its smartphone business.
Dongguan Janus Precision Components Co Ltd, a structural parts supplier for Samsung mobile phones, said its revenue generated from Samsung-related deals had decreased significantly in the first six months.
"Growth in mobile phone shipments has moderated in the first six months of this year. Demand for plastic structural parts, which are mainly used in mobile phones, has weakened," the company said in an email reply to China Daily.
Net profit of Janus in the first quarter of 2015 dropped 362.13 percent compared with 28.04 million yuan a year ago, according to Janus' financial report.
In 2014, about 45 percent of the company's revenue came from Samsung. But in the first quarter of 2015, orders from the South Korean customer declined "considerably" compared with the same period of last year, the company said.
To reduce risk caused by falling business from Samsung, Janus has started to seek new customers inside China. It is now cooperating with Huawei Technologies Co Ltd, ZTE Corp, Xiaomi Corp and OPPO in handset manufacturing.
"The rise of domestic mobile phone brands will exert influence on the structure of Janus' customers. It will also help reduce risks from relying too much on a single big customer," the company said.
A number of Chinese original equipment manufacturers that survive on orders from Samsung, have also struggled to keep their heads above water. Local news outlets have reported layoffs in some smaller plants in Guangdong province due to weakening components demand.
Weaker demand for smartphones in China has dragged global shipments. In addition, Samsung's full-spectrum product line strategy has also failed to support its growth. Samsung's second-quarter smartphone revenue fell by more than 7 percent year-on-year. Its profit dropped by 37.6 percent from a year ago, the company said.
Although the South Korean company remained the leader in the worldwide smartphone market, it was the only vendor among the top five to see its shipment volumes decline year-on-year in the second quarter, according to research firm International Data Corporation.
"The new Galaxy S6 and S6 Edge arrived with mixed results, as a limited supply of the Edge models did not keep pace with the demand for the new (curved screen) handset," IDC said.
In China, the biggest smartphone market worldwide, Samsung fell to the fifth position in shipments for the quarter ended in June, said a report from IHS Technology, another market research firm.
Kevin Wang, an analyst who tracks supply chain research in China for IHS Technology, said Samsung's profit will see a "dramatic slump" this year although its handset shipments are likely to be on par with last year's levels.
The rumored Note 5 and S6 Edge plus release later this month will be the last chance for Samsung to reclaim lost ground before the end of the year.
However, Samsung's rivals, including Apple Inc and Xiaomi Corp, are also planning autumn launches. Beijing-based Xiaomi, which is now the top manufacturer in China in terms of quarterly shipment, is set to debut its next-generation flagship phone on Thursday.
Contact the writers at gaoyuan@chinadaily.com.cn and sally@chinadailyhk.com