He's the first foreign winner of the Wuhan "May 4th Youth Medal" award. He is also recognized as a goodwill messenger by the State Council. Some people have taken to calling him a Foreign "Lei Feng", a high praise because Lei Feng was the role model for several generations of Chinese people.
He is Mostak Ahamed Galib, a student of Wuhan University of Technology in the city of Wuhan, Hubei province, who is clearly the most famous foreign student in the area.
Galib comes from Bangladesh, on the other side of Yarlung Zangbo River.
"I dreamed of coming to China just to have a look when I was a child," Galib says and he chose China for study though a university in another country promises to give him scholarship. In his years of study, Galib keeps helping people in need. Once a friend took him to visit the Wuhan Xiehe Hospital he decided to do voluntary work there and ended up teaching English to children suffered from leukemia for 7 years.
In explaining his motives, he says, "At the beginning of my studies I wanted to do something else after class but gradually realized that I could not tear myself away from these children who influenced me a lot."
Sometimes he would buy them toys and dolls to cheer them up and sometimes he would think of ways to encourage them and give them faith.
"Children there like me a lot and we have established a close friendship," he adds.
When Galib discovered that the family of one of his "little friends", Jiao, couldn't afford to pay for the treatment, he looked for ways to help, such as contacting the media and setting up a fund to collect donations for the boy. Unfortunately, his young friend eventually died from the illness.
In addition to the voluntary work in the hospital, Galib also takes part in other volunteer activities such as teaching at a middle school in Jiangxi province and teaching children regulations for daily life.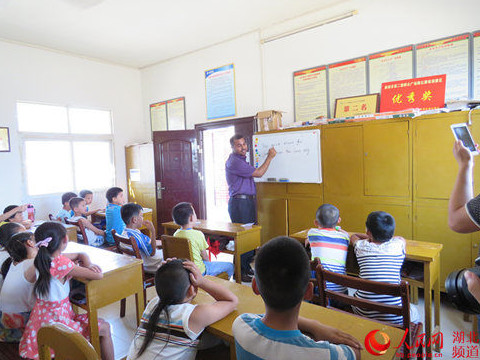 Galib teaches children English in a village school in Hubei province. [Photo/people.cn]
Galib is looking forward to more economic cooperation between China and Bangladesh. The two nations have rich cultural and social exchanges, but the economic exchanges are not enough, he says.
So he chose company management for his major as a way to help increase economic exchanges and cooperation between the two and, fortunately, China's Belt and Road Initiative creates more cooperation opportunities for the two countries.
And, now Galib does have his own consulting business to join the two and, his skill with six languages - Bengali, Chinese, Hindi, Pakistani, English and Arabic - can help him a lot in his work.
His work has helped the realization of transnational projects of more than 10 billion yuan ($1.56 billion).
2015 marks Galib's 13th year in China and he's accustomed to life here. "I'll never stop being helpful between Bangladesh and China, and my love for China will never end no matter where I am." He says when asked about his plan of life.