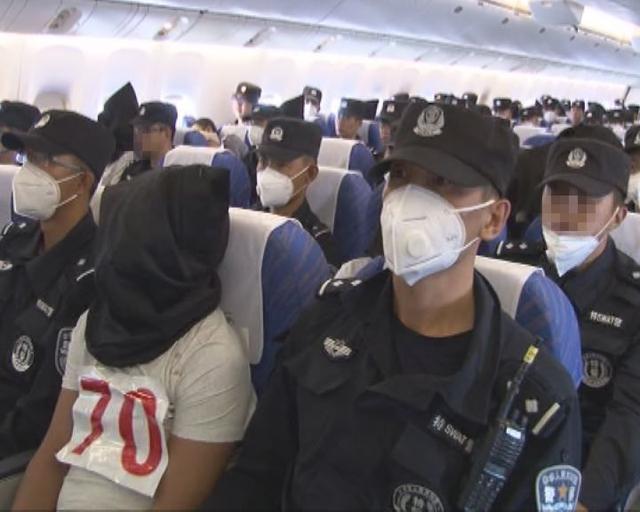 Several stowaways are repatriated from Thailand back to China's Xinjiang Uygur autonomous region on July 9. [Photo/CCTV News]
Forty-five people were recently sentenced in the Xinjiang Uygur autonomous region for trying to go abroad illegally to participate in jihad after being influenced by religious extremism, or for helping those who attempted to do so. Two people received life imprisonment sentences for smuggling 305 people to Vietnam.
The others received sentences of between four to 15 years' imprisonment for organizing, leading and participating in terrorist cells, sponsoring terrorist cells and organizing for people to cross the border illegally, the regional information office said in a statement released on Wednesday night.
Of the 10 cases tried in southern Xinjiang's Aksu, Kashgar and Hotan prefectures as well as northern Xinjiang's Ily Kazak autonomous prefecture and the oil city of Karamay, two were handed to Xinjiang authorities by law enforcement authorities outside the region and 18 human traffickers from Guangxi Zhuang autonomous region were sentenced.
Between December 2013 and June 2014, Wei Hai from Guangxi and a foreign suspect had plotted to smuggle Chinese residents to Vietnam. They then recruited Chen Qianggui who is also from Guangxi and began to plan the routes in the border areas between China and Vietnam.
The three later instructed 11 others to carry out the plan and smuggled 305 people to Vietnam. For every person they handed to the contacts in Vietnam, the group received 5,000 to 6,000 yuan.
Wei and Chen were sentenced to life imprisonment for plotting to help people cross the border illegally by Karamay City Intermediate Court.
Lin Junquan and four others from Guangxi teamed up with human smugglers from Xinjiang and Vietnam between February and March 2014. They rented houses in the border area of Guangxi so the people who tried to cross the border illegally could wait for the ships they arranged to take them.
The group took 21 people from the regional capital of Guilin to the Chinese border on April 16, 2014 after being paid 291,000 yuan. They were caught by Chinese coast guards when they tried to take the sea routes to foreign countries. Lin received 15 years imprisonment and was fined 100, 000 yuan by Karamay City Intermediate Court.
In Kashgar Prefecture Intermediate Court, Abudulwast Jumar was sentenced to 10 years in prison after he and four others tried to join the East Turkestan Islamic Movement terrorist organization and the Taliban in Afghanistan via Tajikistan.
Abudulwast's group had been gathering together to read books with religious extremist contents and watching related videos between April 2013 and September 2014. After secretly planning to go abroad many times to carry out jihad, they gave two human smugglers from Xinjiang 140,000 yuan to be smuggled abroad.
Under the arrangement, they took a truck driven by a Tajik driver who later transported the group to the border between Tajikistan and Afghanistan. They were caught by the local police and handed over to Chinese authorities.
In Hotan Prefecture Intermediate Court, three people were sentenced from 10 to 15 years in prison for using fake Turkish passports to go abroad to join terrorist organizations and carry out jihad.
They obtained the fake passports from a Turkish national and boarded the plane from Beijing to Turkey on Jan 7, 2015. They were caught at Urumqi International Airport- the transit stop of the plane.