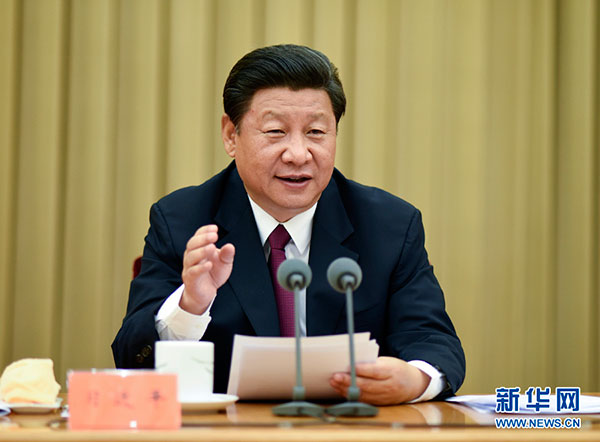 Chinese President Xi Jinping, who is also general secretary of the Communist Party of China (CPC) Central Committee and chairman of the Central Military Commission (CMC), addresses a meeting on the work of Tibet autonomous region which last from Aug 24 to 25 in Beijing. [Photo/Xinhua]
President Xi Jinping has underlined national and ethnic unity as key for Tibet, vowing to focus on long-term, comprehensive stability and an "unswerving" anti-separatism battle.
"Key efforts in the work for Tibet should be spent on ensuring national unity and consolidating ethnic unity, realizing long-term and comprehensive social stability as an obligatory task," Xi said.
The president was speaking in Beijing at a two-day meeting related to the Tibet autonomous region that ended on Tuesday.
Xi stressed that China should "firmly take the initiative" in the fight against separatism, and said communications between ethnic groups should be encouraged.
He said the government will make greater efforts to enhance people's quality of living and their cultural lives while maintaining the ecological environment.
Reviewing the development and progress that Tibet has achieved in the past six decades, Xi said, "We should fight against separatist activities by the Dalai (Lama) group, rely on cadres and people of all ethnic groups, seek long-term policies and take measures that address the root cause."
Xi said social stability provides the basis for advancing development and prosperity for people from all ethnic groups in Tibet.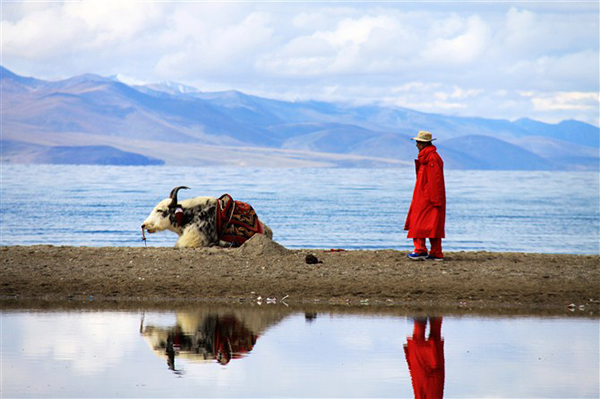 A man dressed in red robe stands with a yak by the Lake Namtso, which means "Heavenly Lake" in Tibetan. At an elevation of 4,718 meters, the lake is the largest saltwater lake in Tibet, the second-largest saltwater lake in China, and the highest lake in the world. [Photo by Song Wei/Provided to chinadaily.com.cn]
The meeting also reviewed previous work on Tibet and charted a course for regional development along with Sichuan, Yunnan, Gansu and Qinghai provinces.
Xi said authorities must draft long-term plans and rely on local officials and the public to ensure persistent stability for Tibet and neighboring provinces, which are home to many people of Tibetan and other ethnic minorities.
He urged officials in the region to keep pace with the Communist Party of China Central Committee in their thoughts and actions, telling them to "cherish unity as if it were their eyes".
Cadres and the public need to continue focusing on reform and innovation and the spirit of Tibet's older generation, featuring dedication and hard work, Xi said.
Premier Li Keqiang said various support measures are crucial to Tibet's reform and innovation. To achieve the goal of building a well-off society in Tibet, he said, five driving forces should be combined.
Li cited efforts from the government and the market, internal and external forces, an opening-up policy for domestic and international markets, coordinated development of urbanization and rural construction, and also a balance between exploitation and ecological protection.
He also urged the improvement of educational and medical services in Tibet, and encouraged the development of local industries, such as agriculture, animal husbandry and tourism.
Xinhua contributed to this story.