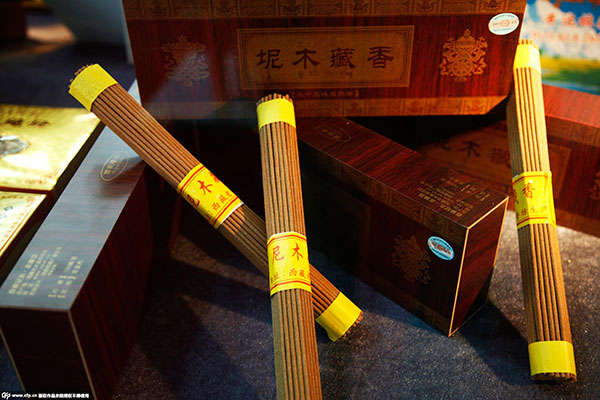 Tibetan incense at a culture exhibition in Beijing in 2008. [Photo/CFP]
Along the No 318 National Road to the west, on the north shore of the middle course of Yarlung Zangbo River, a small valley appears among the fragrant atmosphere.
Across the bridge there is an open slope. Under the trees waterwheels are rotating, bulks of orange color cedar pulp at sides.
Here is Thonpa town, Nyemo County, the hometown of Tibetan incense.
Thonpa is the hometown of Tumi Sabza, the creator of Tibetan script and inventor of Tibetan incense. The town is famous for its incense making, which has a history of more than 1300 years.
Gyatso is sitting cross-legged, concentrating on making incense. Pressing with his right thumb, he forces the wood pulp through the little hole of the ox horn in his left hand.
Norbu Renchen handmade incense factory, established by Gyatso, is located in the Thonpa village near 318 National Road. The 48-year-old man has been making incense for more than 30 years.
He established a workshop in 1995, and then the Norbu Rin Chen Company in 2008. Gyasto's trademarked incense brings him an annual income of more than 200,000 yuan ($32,216), making him the pioneer manufacturer in the village.
Nearly every household in Thonpa is making Tibetan incense. Among the Toinqu River going through the village, there are more than 200 hydropower mills for grinding the ingredients of incense. Gyasto's incense is complicatedly blended, including 28 kinds of different ingredients. The incense has a keynote of cedar, with saffron, musk, benzoin and different kinds of sandalwoods blended in with a proper ratio.
Although Thonpa is known for its incense in history, not everyone could make incense in the past. In the era of People's commune, the government was in charge of who could make it, and how much incense they could make. Since the Reform and Opening up in the 1980s, Thonpa people have established lots of grinding mills for incense making. Many bundles of Tibetan incense sticks have been sold inside and outside of Tibet, even to Hong Kong and Taiwan.
Zhang Shijie, the director of Tourism administration of Thonpa County, said since 2006, Nyemo County has promoted Tibetan incense as a main tourist souvenir. Along the 318 National Road, incense-themed tourism attractions have been set up. Tourism boosts the production of Tibetan incense. At present, among the 200 or so households in Thonpa village, more than 80 percent are making incense.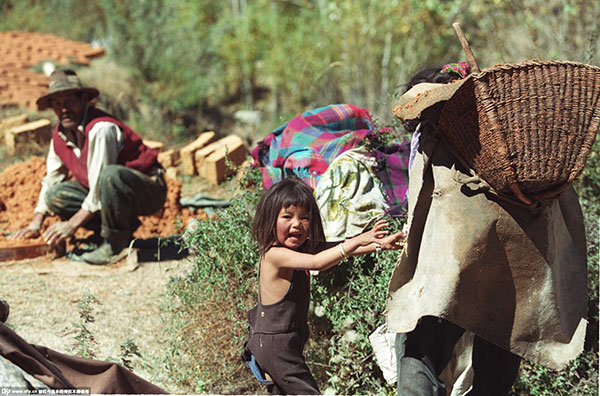 Locals make Tibetan incense in Tibet. Photo taken in 1998. [Photo/CFP]
Tourism brought by national highways
"We are the first village in Tibet to draw a plan of village development," said Namgyal Phuntsok, the Village Party Branch Secretary.
Thonpa Village started the its development plan after it was approved by the government of Tibet autonomous region in May 2012.
"Besides government requirement, we also took the villagers' opinion into consideration when drawing up the plan," said Namgyai. "We have to respect nature and culture, to prevent over-exploitation."