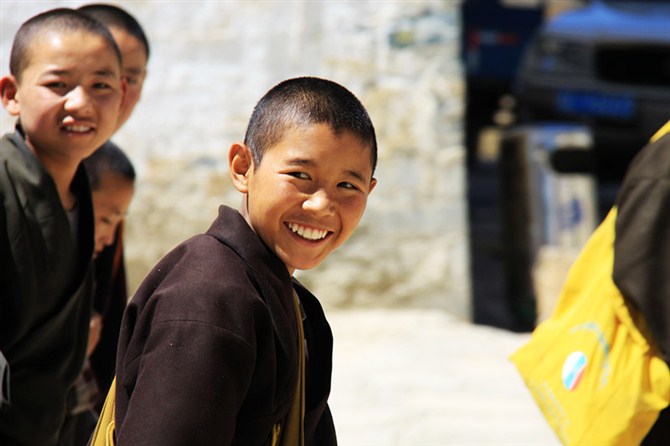 Young monks at Tashilhunpo Monastery in Xigaze prefecture of Tibet autonomous region. [Photo/chinadaily.com.cn]
My first visit to China was in 1986. After that I have been to this charming country several times and during these visits heard interesting stories about Tibet – The land of intriguing contrasts – around which countless yarns of facts and fiction have been spun.
However, for one reason or the other I could not visit Tibet. Though keen to avail myself of the earliest possible opportunity to visit Tibet I was a bit reluctant, rather nervous to go there because of my advanced age, especially when I heard the horrid stories about altitude sickness, leading to plateau pneumonic edema which could result in death. I jokingly told my hosts that I did not want to be a sacrificial lamb to be offered at the altar in Lhasa. However, when my host assured me that I would be provided with foolproof protection in Tibet I tamely surrendered and agreed to go.
I took a flight from Beijing to Xining, the capital of Qinghai province and from there boarded a train for Lhasa, which weaved its way through a stunning landscape of the Qinghai – Tibet plateau and finally reached Lhasa after a long journey of about 20 hours.
Lhasa, the capital of Tibet, is a city of elegant and impressive public buildings intertwined with green spaces. In Tibetan language, Lhasa means 'Holy', no doubt it is a holy city as it houses two of the most venerated shrines in Tibet – the Potala Palace and the Jokhang Temple.
Religion, in fact, is visible in everyday life of the Tibetans. On the roads one can see people turning the handheld prayer wheels and chanting holy mantras from sutras. I also saw people prostrating themselves on all the fours, for every step they took, while going on a pilgrimage. On slope of the hills one can see white prayer flags fluttering in the gentle breeze. In Tibet I found that every home has its own temple and that some family still offer a child for monkhood. I have yet to see a culture so vibrant, so alive.
The Tibetans believe in the holistic development of the individual and the society. No doubt, they do want modern development but certainly not at the cost of their rich culture and traditions. They are in favour of maintaining a fine balance between socio-economic development and the spiritual needs of the people. In several parts of the world the advance of modernization has brought ancient civilizations to extinction but nothing like that happened in Tibet, as it is still preserving its pristine natural environment and its rich cultural traditions.
Tibet, which remained isolated for centuries, is now opening up to the outside world. Radical changes have taken place since the establishment of Tibet autonomous region of China. Today, Tibet is undergoing significant structural changes. Within a short span of 50 years it has been transformed from a predominantly agrarian economy to a modern trading economy with an expanding regional and global network.
Life in Lhasa is quite fast paced and the city has all the comforts and luxuries of a modern metropolis, like star rated hotels, top-notch restaurants, fashionable shopping malls stocking the latest brands from other parts of China and across the globe. However, inspite of its meteoric evolution, Lhasa is still keeping intact its own world charm and character.
With development around, living standards of the people have gone up and they are now doing away with the unnecessary shackles of the past and are brimming with a hope to carve out an enviable future for their children. During my visit I could feel a new vibration and enthusiasm among the people. They have more money and more spare time – an astonishing change from the past.
The young men and women are prone to western outfits. Their food habits have been diversified. No more they are content with their traditional diets tsampa, the staple food of the Tibetans. Spicy Sichuan delicacies and Cantonese cuisine or intercontinental food have been trappings for a generation aspiring to acquire the status of global citizens. Today, young Tibetans like to spend their evening outdoors to savor cosmopolitan food or to enjoy theatre or opera. I was deeply touched by the rich repertoire of the traditional choir and vivacious folk dances of Tibet.
During my visit, I was deeply impressed by the incredible beauty of Tibet – its pictures landscape, pristine snowy mountains, sparkling rivers and lakes, flower-spangled meadows and of course, its exotic wild life which all combine to make it a veritable paradise. Was it a vision or a waking dream, I cannot describe the beauty of the region in words. Seeing is believing, therefore, one must see Tibet personally to enjoy the beauty of this mysterious land where past and present are so intimately intertwined.
The author is secretary-general of Unity International Foundation, India