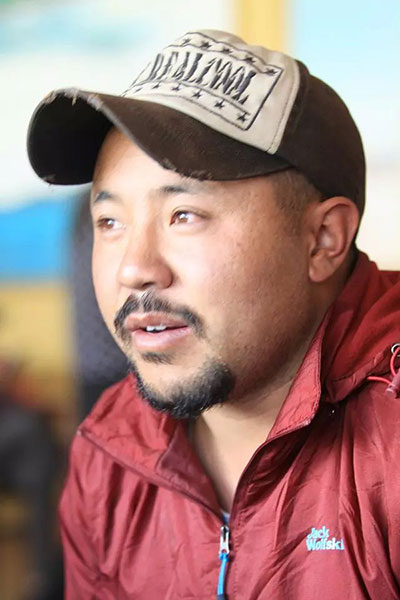 Konchok Tsethar [Photo/chinadaily.com.cn]
Damxung, Lhasa – The moustache on Konchok Tsethar's weather-beaten face makes him look older than his peers. The 28-year-old Tibetan, running a hotel business near Nam Co Lake, one of the holy lakes on the roof of the world, is a well-known figure in his village.
The net profit of the hotel Tsethar runs hit one million yuan($161,000) last year, an annual income which is more than twice the middle class families in China's metropolitan cities such as Beijing and Shanghai.
But Tsethar came from humble beginnings. In his words, good ideas usually come in rough times.
His family, like the rest of those in Nam Co village, were nomads herding yaks and sheep around the lake for generations.
But the death of his father cast some dark clouds on Tsethar's early years. "Life back then was bitter and hard," he recalled. "There were only mom, big brother and me".
A silver lining occurred one day when a van pulled up in front of their tent. The family received their first guests who spent a night in their tent. It was 1997.
However, few tourists made it to Nam Co Lake by driving uphill along the bumpy winding road.
Nam Co Lake is 4,718m above sea level, and vehicles have to climb snow-capped mountains to reach the destination.
However, thanks to the construction of Qinghai-Tibet highway, the village started to welcome more tourists.
As the tents set up for tourists by his family expanded to eight, Tsethar thought it was time to take another plunge.
In 2013, he built a one storey hotel covering an area of 3,000 square meters, only 200 meters away from the holy lake.
During high season, usually from May to October in Tibet, the hotel and its restaurant received 300- 400 people every day.
The price of recommendation for one night ranges from 60 to 70 yuan to 200 to 300 yuan.
To keep his business running, Tsethar employs 17 people, 15 locals and two from Sichuan, a major source of migrant workers in Tibet.
The hotel, which owns 12 cars, also provides a car service to receive and send customers off.
The tourism boom rippled across the village, and now 70 % of villagers are employed by the tourism industry, leaving 30% attending to stock farming, according to Tsethar.
With the booming tourism business, 47 households in the village offer accommodation, and the number of restaurants have expanded to over 200.
When asked about whether he thought the whole village would join the tourism business, Tsethar said no.
"It is important to carry on the business which our ancestors passed down as well," Tsethar said.
Growing up as herdsman himself, Tsethar said he too has a special fondness for animals. He sometimes goes to the livestock market and buys yaks and sheep and sets them free.
The hotel business keeps Tsethar busy for almost half a year, but during off season, the millionaire said he would like to pray for good fortune by walking around the holy Tibetan mountains with his family – a Tibetan Buddhist ritual which could take up to a few months - and go traveling.
"I've been to Beijing and Shanghai, and I am planning to travel to more places," Tsethar said with a grin.