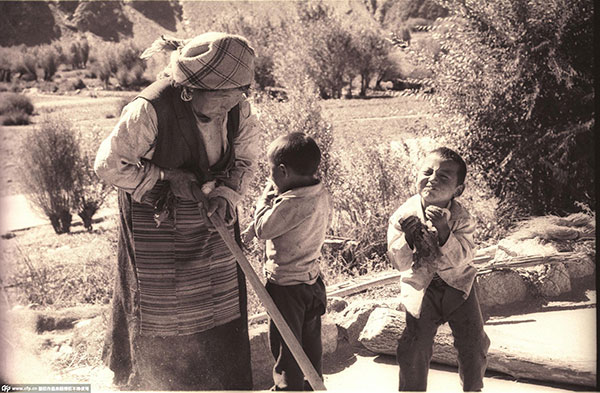 Locals make Tibetan incense in Tibet. Photo taken in 1998. [Photo/CFP]
The plan centers on the Tibetan script and Tibetan culture because Thonmi Sambhota, the creator of Tibetan script, lived in this village. It also tries to promote the handmade Tibetan incense.
The technique used to produce incense in this village had been recognized as intangible cultural heritage. The plan aims to provide illustrate Thonpa as a village of harmony and happiness. Namgyai said that the goal is to make tourism the predominant industry for the village in future.
Heavy investments were made to a series of programs in Thonpa Village in 2012. The programs were designed to protect the local cultural heritage, to create more tourist attractions, and to enhance tourism environment. The old residence of Thonmi Sambhota was being repaired. A museum of Tibetan script was built. They also started building a parking lot.
"To make the local culture part of the tourism resource here in Thonpa, we need to build museums to show the influence of Tibetan script and incense on Tibetan culture," said Zhang Qubo from Tibet Thonmi Cultural Tourism Co Ltd. "It is also important show the tourist the intangible cultural heritages like the technique of making Tibetan incense."
Now Thonpa has become a well-known scenic spot around Lhasa area. It is listed as one of Lhasa's seven tourist sites of priority development. The Lhasa-Shigatse railway, which is under construction, sets the only stop in Nyemo County in Thonpa Village.
A Broader Way to Prosperity
A single move vitalizes the whole. The scientific planning is guiding this age-old village into a brand-new era of rapid development.
"Tourist industry and Tibetan incense industry are both Thonpa-featured industries. We aim to establish Thonpa's unique brand image through the development of tourism and other related services. The interdependent development of tourism and incense-making industry will lead the village to a new era of social and economic prosperity," said Mima, chairman of Thonpa's people's congress.
Local farmers not only warmly welcomed the tourist products promoted by government and companies but also actively contributed to the development by making Tibetan incense according to the unique recipe and craftwork of Nyemo Tibetan incense, which is highly-appreciated by people within Tibet and throughout the country.
"The Thonpa scenic spot is set up to facilitate the development of Tibetan incense industry and the spread of its related culture and further allow the incense-making and its related industries to lead people to economic prosperity. Meanwhile, the scenic spot provides local people with more jobs. Our company plans to employ 100 people this year, 90 percent of whom are local. As our profit increases, we may allow villagers to share the stake and to participate in the construction of the scenic spot," said Zhang. It is said that last year alone, the spot received over 750,000 people and earned over 27 million yuan ($4.3 million), adding more than three million yuan ($483.121) to the locals' income.
With the rapid development and the designation as a "China's most beautiful village", a "China's famous historical and cultural village" and a "China's town of art", Thonpa scenic spot becomes increasingly popular. Villagers become more confident and clearer about the future. Many of them have started agritainment, providing accommodations for tourists.
"I have opened another five teahouses," said Trashi, the most experienced teahouse owner in the village. His income has increased in recent years in spite of the emergence of more competitors.
Tibet Thonmi Cultural Tourism Co Ltd has widely planted galsang flowers along the roads and inside villagers' gardens in an effort to make Thonpa village a land of gelsang flowers.
"Recently, we are preparing for China Lhasa International Gelsang Flowers Festival. More people will come to visit at that time," said Zhang.