Becoming a member of a Tibetan Buddhist order doesn't mean becoming totally divorced from the outside world, and today's devotees are using cellphones and tablets to stay in touch, report Chen Bei in Qamdo and Luo Wangshu in Xigaze in the Tibet autonomous region
.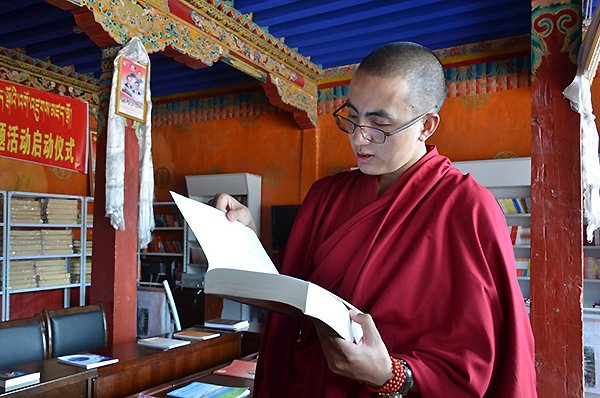 Tenzin Yontan, a Tibetan Buddhist monk, reads a book at the Champa Ling Monastery in Qamdo, a city in the east of the Tibet autonomous region, Aug 7, 2015. [Photo by Chen Bei/chinadaily.com.cn] 
If you spend 30 minutes checking Tenzin Yontan's social networking posts, you'll quickly get a good idea of his three main interests: Tibetan Buddhism; his family; and social engagement.
And if you've never met Tenzin, his posts will satisfy your curiosity because he occasionally posts "selfies", self-portraits that show a 20-something monk with chiseled features, dressed in a crimson robe.
Tenzin lives at the Champa Ling Monastery, the largest in the Gelugpa school of Buddhism in Qamdo, a city in the east of the Tibet autonomous region.
The 27-year-old member of the Tibetan ethnic group said his daily routine revolves around listening to the teachings of the Buddha, analytical debates with fellow monks and reading the sutras.
It seems a world away from his peers in the outside world, yet Tenzin's smartphone reveals that monastic life is not totally divorced from modernity.
"Social media applications such as Weibo (a Twitter-like service) and WeChat messenger (a popular Chinese social networking platform) are among the most used apps on my iPhone," he said, adding that he mainly uses social media to read the news, interact with friends and promote Buddhist culture.
Tenzin updates his WeChat "moments" about five or six times a month. He obviously adores his relatives who live several kilometers away, posting photos of his newborn niece and sending his best wishes to his parents on Father's Day and Mother's Day.
One of his latest updates contained prayers for those killed in a recent chemical explosion at a warehouse in the northern port city of Tianjin, China's worst industrial accident in decades.
Just a few hours after news of the initial death toll and the number of serious injuries began flooding China's social media networks, he posted, "Pay silent tribute to the dead, pray for the living and show respect for the courageous firefighters." The post was accompanied by a photo of a statue of the Buddha.
"Being a monk doesn't mean living in a sealed world, reading scriptures and praying for the release of dead souls from purgatory," Tenzin said. "A monk also needs to educate the living to do good works and help each other in this world. That means we have to know what's going on and communicate with society."
He said mobile gadgets such as smartphones and tablets help the younger generation of monks to keep their fingers on the pulse.
"With the help of social media, we can perform charitable works in a more effective way," he said, citing an instance in 2013, when he helped to raise 25,000 yuan ($3,900) in five days via WeChat to pay the medical bills of a 1-year-old called Losang Senge who had fractured his skull.