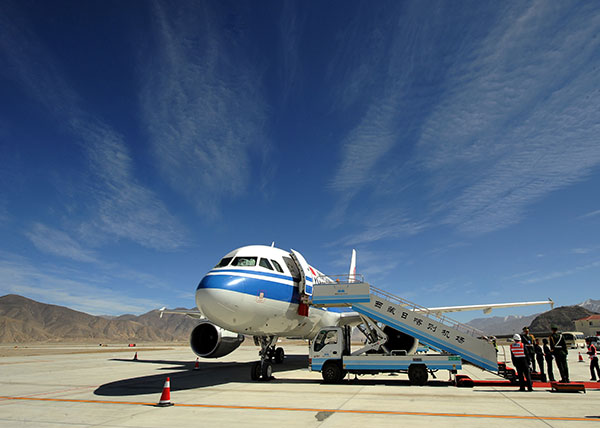 Shigatse Peace Airport in Tibet on Oct 30, 2010. [Photo/Xinhua]
LHASA - Flying a plane over the "roof of the world" is no easy task.
High terrain and severe weather once made Tibet, with an average altitude of 4,000 meters above sea level, off-limits for aircraft.
Stories of daring American pilots in the 1940s who flew along the Hump Route over the Himalayas to transport military supplies still resound. More than 500 aircraft and 2,000 pilots were lost to the mountains during World War II.
As Tibet marks the 50th anniversary of regular flights this year, aviation professionals explain how the industry has transformed life on the plateau.
50 YEARS: LEAPFROG DEVELOPMENT
Gyazhugling Village in Lhasa, capital of Tibet, is a perfect example of how planes can change lives.
Located just outside Lhasa Konggar Airport, Gyazhugling was once wild marshlands with only a few herdsmen. Since 1966, it has grown into a community of 1,000 residents, with two schools, a clinic, and a cluster of hotels and supermarkets.
With a 4,000-meter runway, Konggar airport transports thousands of passengers every day. For many tourists, Gyazhugling is their first stop.
Tibet now has five airports, one in Lhasa, and another four in Shigatze, Chamdo, Nyingchi and Ngari, which operate 58 flights to other Chinese cities, and also to Kathmandu, capital of Nepal.
In the past 50 years, Tibet's airports had 206,000 takeoffs and landings, and a total of 24.71 million passengers and 330,000 tons of cargo have been transported via the region.
Planes have brought tourists, boosted spending, carried agricultural produce to buyers thousands of miles away, and provided medical evacuation for herdsmen who live in the plateau hinterlands.
Aviation officials who have witnessed these changes credit the progress to strict attention to aviation safety and heavy investment.
In 1955, the Central Government decided to open an air route between Beijing and Lhasa, but it took another decade to make the flight happen.
"I remember there were endless tests and training. No one dared to put a plane and passengers over Tibet unless it was 100 percent safe," said Li Shunhua, former Party Secretary of the Tibet Civil Aviation Bureau.