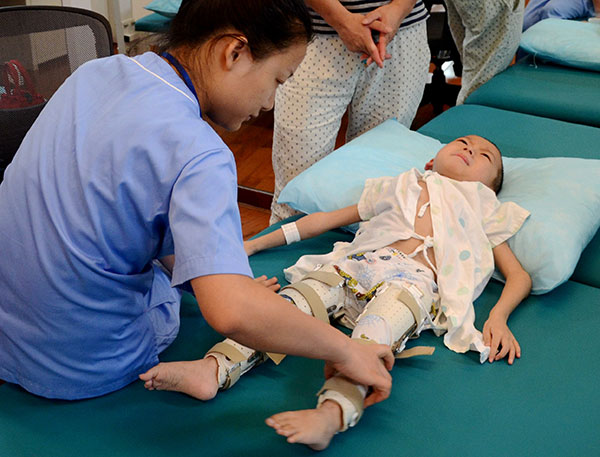 A 6-year-old boy who underwent surgery for brittle bone disease is cared for by a nurse.  CHEN WEN/CHINA NEWS SERVICE/CHINA DAILY
A 6-year-old boy suffering from brittle bone disease was able to stand on his own feet after a successful operation enabled by 3-D printing technology at a hospital in Shenzhen, Guangdong province.
It was claimed to be the first orthopedic surgery in the country involving the innovative technology.
"By printing out a 3-D skeleton model of the boy's lower limbs, we were able to make a precise plan for the operation and perform the operation successfully," said To Kai-tsun, a consultant surgeon of orthopedics and traumatology at The University of Hong Kong-Shenzhen Hospital, who took part in the surgery.
The boy had multiple fractures in his legs and was not able to stand because of the disease, he said. The boy could only sit on a chair.
Brittle bone disease can cause severe bone deformities, poor muscle tone and bad joints, and can be fatal.
"Due to severe malformation, even making a standard X-ray film became impossible, which made it very difficult to work out an operational plan for him," he said.
"The printed 3-D model of the skeleton, however, enabled us to examine his illness precisely: For example, how serious the skeletal deformation was, and where to cut the bones. Otherwise, we would spend more time in surgery and the patient would suffer more pain," he said.