Karamay hosted a celebration on Aug 30 to commemorate the 60th anniversary of Karamay and honor its achievements.
Chen Xinfa, secretary of the city's Party Committee, delivered a keynote speech on the transformation of the past 60 years. "We aim to construct Karamay into an international center and let the people enjoy high quality life by 2049," said Chen Xinfa.
"Karamay has become a modern oil city in west China, and I hope we can take the opportunity to make the oilfield even more vibrant," Wang Dongjin, deputy general manager of the China National Petroleum Corporation.
On Oct 29, 1955, the first oilfield of Karamay was discovered. With the efforts of generations of local people, the oilfield is now a modern petroleum and petrochemical base in China. Karamay is changing from a desert to a civilized and livable modern city.
The ceremony was hosted by Yang Xuewen, general manager of Xinjiang Oilfield Company. Zhang Hongyan, mayor of Karamay, delivered a welcoming speech.
Apart from local officials and oilfield employees, representatives from Karamay's sister cities also attended the ceremony. After celebrating, a gala was held to commemorate the 60th anniversary of the discovery of the Oilfield.
The activity attracted attention from media both inside and outside Xinjiang. They gave live coverage and reported on the celebration and the gala.
In the past 60 years, the proven oil reserves of Karamay totaled 2.6 billion tons. The city has drilled more than 300 million tons of oil and 70 billion cubic meters of natural gas, adding up to 190 billion yuan to national and local tax revenues.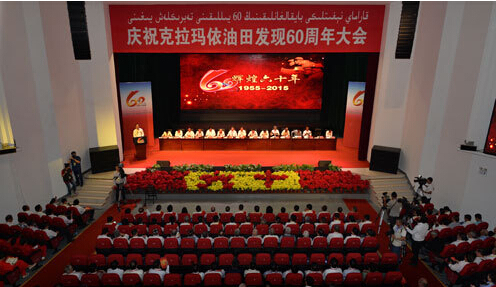 Representatives from inside and outside of Xinjiang attend the celebration of the 60th anniversary of the Karamay Oilfield on Aug 30. [Photo from Karamay Daily]
Edited by Andrew Ancheta