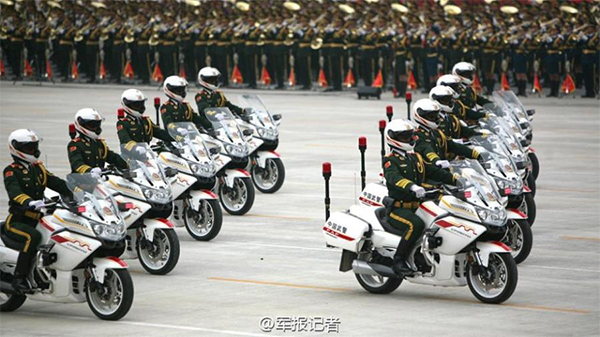 Established for just a year, Chinese armed police motorcycle guard formation will make its debut on the V-Day Parade that will be held on Sep 3 in Beijing. [Photo/81.cn]
Military fans in China and around the world should set their alarm clocks to ring before 10 am on Thursday Beijing time as they will be presented with a rare display of the People's Liberation Army's top weapons, observers suggested.
China will stage a grand parade on Thursday in Tian'anmen Square to mark the 70th anniversary of victory in the Chinese People's War of Resistance against Japanese Aggression (1937-45) and the end of World War II.
More than 12,000 military personnel as well as veterans and their descendants will participate in the event. Seventeen foreign military teams will also take part.
This will be China's 15th military parade since the founding of New China in 1949.
More than 500 pieces of the PLA's latest ground and naval equipment as well as nearly 200 advanced aircraft will be displayed, 84 percent of which have never been viewed by the public, according to the PLA Parade Joint Command.
What will be one of the biggest attractions during the parade are new-generation strategic missiles from the PLA second artillery corps, said Gao Zhuo, a military observer in Shanghai.
"The corps will display seven types of missiles during the event, more than any previous parades. The world's only anti-ship ballistic missiles such as the DF-21's latest variant are likely to appear in the parade," he said. "They will be our most effective weapons in anti-carrier operations."