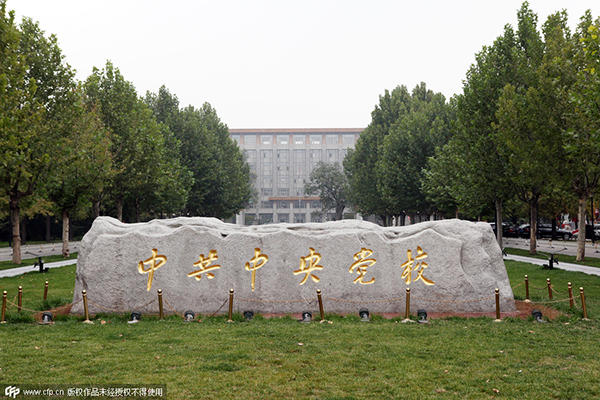 Stone sign written by former president Jiang Zemin on Party school campus.[File photo/IC]
The top Party school, a key training center for senior officials, has carried out a campus renovation plan that has erected new statues of renowned communist figures Karl Marx, Friedrich Engels, Mao Zedong and Deng Xiaoping to boost Party spirit and inspire officials, according to the school authority.
It has also relocated a big stone sign written by former president Jiang Zemin from the school entrance to the front of the campus' main building because of traffic safety reasons, a senior school professor said on Monday.
The statues have been aligned along the campus' axis. Another statue of Jiao Yulu, a leading example of an honest Party cadre, stands in the east part of the campus, according to a statement from the Communist Party of China Central Committee's Party School.
"As the highest institution of learning charged with training senior and middle-ranking CPC leading cadres, our campus, though boasting a beautiful environment with trees and ponds, lacked a landscape embodying the Party spirit," the statement said.
"The figures of the statues represent different phases of development for the CPC, showcasing the Party spirit of keeping up with the times."
As the top institution that trains Party officials, every move of the CPC Central Committee's Party School attracts wide public attention.
At a news conference on Monday about the military parade this week marking the end of World War II, reporters also raised questions regarding the school renovation and the relocation of the stone sign, which shows the school name written in Jiang's calligraphy.
Zhuo Zeyuan, head of the school's political science and law department, said the relocation is mainly due to traffic safety reasons and is not a sign of disrespect to former leaders.
He said when the stone stood in front of the school's gate, people liked to take pictures with the inscription as a background, which blocked traffic and also raised safety issues. The school's front gate is located at a busy street in north-western Beijing.
After the relocation, the inscription stone can also be seen from the main street.
Xinhua contributed to this story.