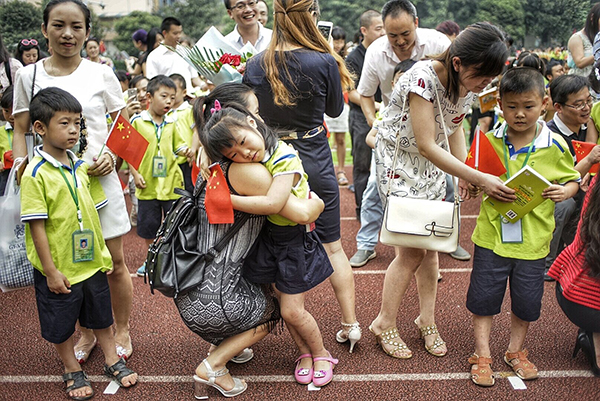 A first-grader hugs her mother on her first day at primary school in Chengdu, Sichuan province, on Tuesday. For Chinese parents, enrolling their children in a good public primary school is becoming increasingly difficult. HE HAIYANG/CHINA DAILY
Parents are finding it increasingly difficult to enroll their children in a public primary school in Shenzhen, especially a good one, as the number of children about to enter school greatly exceeds the number of available spots.
In Longgang district, the gap in public primary school spots has widened more than 40 percent this year, surging from 7,694 places too few last year to roughly 11,000, according to the Longgang District Education Bureau.
In Futian district, the number of primary-school-age children has reached 14,500 this year, but there's only room for some 10,000, representing a shortage of 4,500 spots and nearly 30 percent growth from 3,500 in 2014.
Getting into a good school is even harder.
Hu Yanhua, whose daughter will be 6 next year, has already begun to prepare for enrollment. The family rents a 52-square-meter apartment near the school they long for in Futian district. They moved into the place months ago.
"We are making preliminary preparations to increase the possibility of being admitted," said Hu. "But I am still not sure whether my daughter can get into the school. The competition is fierce."
Enrollment of primary schools in Shenzhen is based on a rating system. Applicants are rated by the educational department according to factors including whether they have local household registration, or hukou, or whether their parents own property in the district. Those with higher scores have a greater chance of getting into a good school.
In some areas with a severe shortage, families with no property are required to rent apartments within the schools' enrollment range at least half a year before the March application and rent the property for no less than a year.
Educators say the upsurge in the number of primary school applicants started two years ago, and they are facing increasing pressure in accommodating them.
The scarcity in education resources is expected to intensify in the coming years as the number of newborns has continued to increase since 2008.
As the growing number of school-age children already challenges the compulsory education system, experts believe policy easing and a booming entrepreneurship wave will add further pressure to the city's scant education resources.
"Adjustments of policies, like allowing students without local household registration to take part in the annual college entrance examination in the city, will encourage more children to study here," said Pan Xiwu, director of the Educational Policy Research Center at the Educational Science Research Institute in Shenzhen.
"Meanwhile, the wave of innovation and entrepreneurship across Shenzhen is expected to attract more talent to the city, bringing a number of school-age children and further fueling the demand," he added.
To ease the problem, the city has been beefing up efforts to increase school places. Over the past five years, some 126,000 places in public primary and secondary schools were created through campus renovation or expansion.
The city plans to invest 10 billion yuan ($1.57 billion) in basic education projects in the next three or four years to provide an extra 140,000 or more school places.
It has also introduced a new enrollment system that allows applicants to apply for two or three schools within a larger geographical range instead of placing all their bets on one.
The system is currently operating as a trial program in some schools across the city.