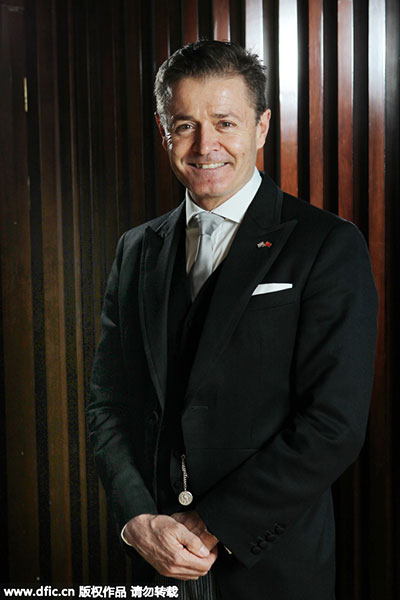 Gary Williams, the principle of The British Butler Institute. [Photo/IC]
A butler who once served former British Prime Minister Margaret Thatcher is to bring his impeccable manners from the confines of Westminster to China, chinanews.com reported.
Gary Williams, principal of The British Butler Institute, the sole such body in the world, will offer his service for one day each in Beijing, Shanghai and Hangzhou.
His visit will include the full British butler experience and etiquette training.
The course costs 1,999 yuan ($313) for a limit of three customers on Juhuasuan, e-commerce giant Alibaba's group-buying website.
"Butler service in China is still in its infancy but we have seen a growing demand," Fang Peterson, in charge of The British Butler Institute's business in China, told China Daily.
A woman, surnamed Liao, is an advocate of the service but is thinking more about the next generation.
"I'm considering long-term etiquette training for my child, a week at least, to be more elegant and educated," she said. "My friend and I want to have a mini training class for our children together".
British culture and products have a growing profile in China and have been praised by increasing numbers of Chinese exposed to them through travel or TV shows such as Downton Abbey.
The Chinese are fascinated by Britain's long history and exquisite etiquette that has been refined through the ages. British products of great quality with a royal warrant are sought by elites who can afford them and want more.
"We are optimistic about the China market. China's rising middle class are demanding better services," Peterson said.
But such a growing appetite can't be adequately met due to a shortage of available talents.
"There are few qualified butlers in China," Peterson said, adding that she couldn't find enough talent in Beijing to meet a hotel's demand for three suitable employees.
Apart from the etiquette and schedule management, a good butler need to possess knowledge of wine, maintain expensive glass and silverware and have skills in the garden, kitchen, medical care and many more.
Trainees at the British Butler Institute must complete 192 courses before they qualify and Williams will share some of the course during his visit.
After the three-day whistle-stop tour the service will be open to the Chinese market on the e-commerce website.
Then your very own Jeeves will be just a click away.
Ma Si contributed to the story.