More than mere diplomacy can boost Sino-British friendship
By Cecily Liu ( China Daily )
Updated: 2013-12-12 08:16:30
It's been a while since I visited parents in China, and this time I noticed something different when I went to apply for my Chinese visa, because I have taken up foreign citizenship.
I turned up 15 minutes before the visa center opened, expecting to get the first number. But there were quite a few people there ahead of me.
I sat down and waited as more people streamed in. There were old couples with gray hair, students carrying big backpacks, parents holding their children's hands and professionals in business suits.
Five years ago, if I had walked into the center during a busy time, I would have been called up soon. But not anymore - the center has gradually become crowded. Two years ago, it moved to much larger offices in the heart of London's financial district.
One reason is the massive growth in the number of British citizens who want to visit China for educational or cultural exchanges, for business or for personal reasons.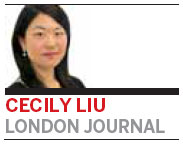 Curious to find out more, I sat down beside a British man, who seemed to be in his 80s, and started a conversation.
The man, whose name is Bill, told me that he first went to Hong Hong in 1949 as a young soldier. There, he met a Chinese friend with whom he kept in touch for years.
Now the friend has died and his family, living in Shanghai, invited Bill to visit them for six weeks.
This heartwarming story of friendship was an antidote to criticism of China that I had been reading recently in British newspapers.
"Bill, there seems to be so much fear in the press about the Chinese wanting to invest in a nuclear power station and high-speed train system in this country. Why are people scared of China?" I asked.
Bill laughed, seeming more amused than offended. "That's because they see China as fast-growing and powerful and don't know what to make of it. But when I speak to my friend and his family, we get on fine as human beings," he said.
British Prime Minister David Cameron visited China last week with a delegation of more than 100 business leaders. But it is also worth noting that an estimated 570,000 British citizens travel to China each year. Their sincere and open communication is at least as important as official diplomacy in building friendships.
Sitting in the center, watching people of all ages and ethnic backgrounds, I felt this process is well under way.
Contact the writer at cecily.liu@chinadaily.com.cn
(China Daily 12/12/2013 page10)

China taken on as building partner
Meetings with central and Eastern European heads underline China's global roal.