Zhang Yong, head of the Blue Sky Rescue Team of the Red Cross Society of China, spent the past week with his seven team members searching for bodies in areas ravaged by Typhoon Haiyan.
After the fourth day of searching, his feet were covered in massive blisters. To make matters worse, the blisters had started to fester.
"Don't move! Look! What have you done to them?" said Chen Yuqiu, a medical staff member of the international rescue team of RCSC.
Chen carefully poked each blister with an injection needle to drain them of liquid and sterilized the wounds. Zhang was relatively motionless during the treatment.
Thus far, Zhang and his team have retrieved 51 bodies since their search operations began on Nov 25 in severely damaged Leyte province in the central Philippines. All of the bodies have been transferred to local authorities.
For Zhang, a veteran rescuer who goes by the nickname Yuan Shan (meaning "mountain far away"), the number of bodies the RCSC has retrieved is considerably high since most of the victims immediately after the disaster - found floating in the water - had been rescued in the first two weeks after Nov 8.
"It is a humanitarian duty and an accepted practice around the world to retrieve dead bodies from a natural disaster and make sure that they can rest in peace. The victims deserve respect like living human beings," Zhang said.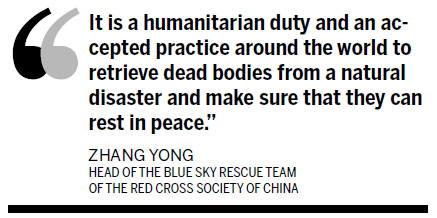 This is the first large-scale mission for Zhang's team, who he said have waited five years to take on a mission of this magnitude. He and the team covered almost every major natural disaster within China, including the Yushu earthquake in 2010.
Zhang said there is little difference between the operations in China and abroad as long as preparations are made.
"Before going to the Philippines, a group of our people gathered information to get a clearer picture of the greatest demands within the devastated areas," he said.
Most of the team members are expert hikers and had no trouble traversing the hilly islands of the Philippines.
The biggest challenge is the high levels of contamination in local water sources, which were filled with decaying dead bodies and debris.
Zhang said his team members come from various parts of China and received their Philippines mission just after a series of training sessions in Beijing in early November.
"Many of them had only three or four days free and could not go home. I want to write letters to their families and say thanks," Zhang said.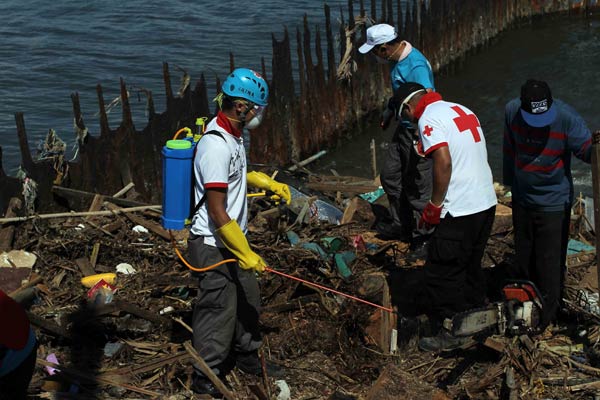 Chinese rescuers disinfect debris left by Typhoon Haiyan in Tacloban, the Philippines, on Nov 25. Wang Jing / China Daily