Navy's hospital ship heads to Philippines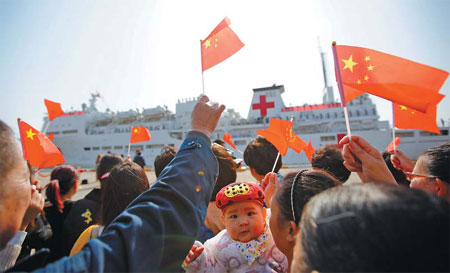 Relatives of crew members wave Chinese national flags as China's hospital ship the Peace Ark leaves a naval port in Zhoushan Island, Zhejiang province, on Thursday, for the Philippines, to assist the victims of Typhoon Haiyan. Carlos Barria / Reuters
A Chinese hospital ship set sail for the typhoon-ravaged Philippines on Thursday as Beijing made substantial moves to help the nation.
The Chinese People's Liberation Army navy's hospital ship, the Peace Ark, set off from a navy port on Zhoushan island in Zhejiang province and is expected to arrive at the Philippines' devastated Samar province in about three days.
This is the Chinese navy's first overseas mission to focus on disaster relief, PLA navy Commander Wu Shengli said.
During the mission, China will fulfill its responsibility as the second-largest world economy. The Peace Ark, with 106 medical professionals and world-class equipment on board, will do its utmost to help people in the disaster area, Wu said.
The death toll from Typhoon Haiyan has increased to more than 4,000 as of Wednesday, while more than 18,267 have been injured, Philippine authorities said.
The Chinese medical ship can accommodate up to 300 beds and more than 100 doctors and nurses who are expected to provide on-board care while venturing into the disaster-ridden area with field tents.
Shen Hao, the commander of the ship, said the vessel recently returned from a four-month deployment around Asia, and has provided free medical services to eight countries.
The Peace Ark is newly equipped with two speedboats and other medical facilities to meet unexpected scenarios during the mission. The navy cut short a one-month maintenance period so it could send the ship sooner, Shen said.
China is also ready to dispatch medical teams or set up a field hospital if asked by the Philippines, he added.
"I believe the Peace Ark will bring peace and care to the Philippine people," he said.
Over the past five years, the Peace Ark has conducted three major overseas missions, in Asia, Africa and Latin America, providing aid to more than 50,000 people. The vessel also participated in a fishermen rescue mission in early October in waters off the Xisha Islands while the ship was returning from a mission.
China's Foreign Ministry said that other Chinese organizations are also contributing. The first relief workers from the Red Cross Society of China arrived in the central Philippines city of Cebu on Wednesday, with more expected in the next few days.
Huawei, an international supplier of telecom technology and equipment, has been working round-the-clock to restore communication in typhoon-affected areas.
AFP and Xinhua contributed to this story.
pengyining@chinadaily.com.cn