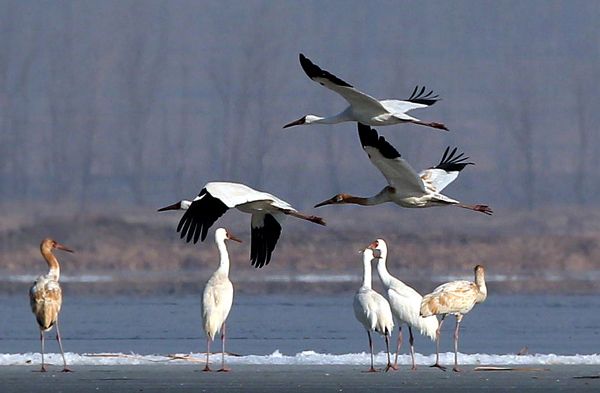 White cranes gather in a wetland in Faku county, Liaoning province. Zou Hong / China Daily
Combination of movements also forms a good basis for daily exercise, Gao Anming, He Na and Wu Yong report in Shenyang.
A new dance craze has been sweeping Faku county in Liaoning province. Like the traditional dances performed by generations of locals through the ages, the White Crane, which mimics the movements of the majestic bird for which it's named, is based on the natural world.
The dance, invented by Meng Xiangtai, a professor at Shenyang Sport University, has enjoyed huge popularity since it was unveiled in May, but it also forms a series of daily exercises.
Based on Meng's long-term, detailed observations of white cranes - an endangered species that has the same level of protection as the Siberian tiger and the panda - the dance involves 44 separate movements. Its popularity is partly due to the fact that it's easy to learn and promotes good health, but more important, it reflects the local people's love of white cranes.
Faku is home to Huanzidong National Wetland Park, which lies along an important migratory corridor in northeastern Asia. Every year during spring and autumn, the two migratory seasons, Huanzidong welcomes about 3,000 rare birds - including about 2,000 white cranes - which land to recharge their batteries, staying for 90 to 100 days.
The local government's wetland protection measures have been so successful that the number of migratory birds, especially white cranes, has remained stable during recent years, and Faku has been honored as "China's White Crane County", a name bestowed by the China Wildlife Conservation Association.
Every year, the white cranes migrate twice. They make a round trip, flying from Poyang Lake, China's biggest freshwater body, in Jiangxi province, to Siberia, a journey of 5,000 kilometers each way.
As one of the major stopover points, the dish-shaped wetland with its abundant flora provides a natural nesting place and shelter.
According to statistics from the CWCA, the global population of white cranes is about 3,000, and Huanzidong hosts more than 2,000 every day during the migratory seasons, accounting for about 70 percent of the total.
The rare birds also attract ornithologists and experts from across the world who regard the gathering as a sort of miracle.
White cranes have an almost entirely snowy plumage, orange beaks and red feet. They have a strong attachment to the wetland because the birds rely on insects, fish, seeds, and the roots of water plants for food.