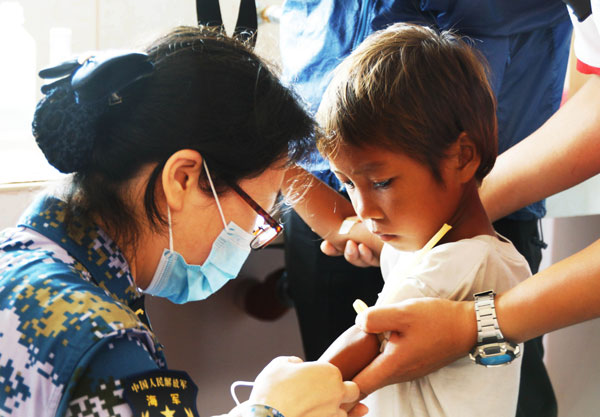 Medics from the hospital ship Peace Ark treat people in Tacloban, the Philippines, on Wednesday. Wang Xi / China News Service


Peace Ark
helps forge new friendships in disaster zone,
Peng Yining
reports in worst-hit area of Tacloban, the Philippines.
Editor's note: On Nov 21, the Chinese hospital ship Peace Ark sailed from Zhoushan port in Zhejiang province to help with disaster relief efforts in the Philippines in the wake of a devastating typhoon. China Daily reporter Peng Yining is aboard the vessel to provide regular updates on its progress.
Flora Anade was one of the first to receive help from the Peace Ark when the Chinese hospital ship arrived in the typhoon-ravaged Philippine city of Tacloban on Sunday on its disaster-relief mission. When Super Typhoon Haiyan hit her house on Nov 8, Anade crouched down and buried her head in her hands as protection from the collapsing ceiling.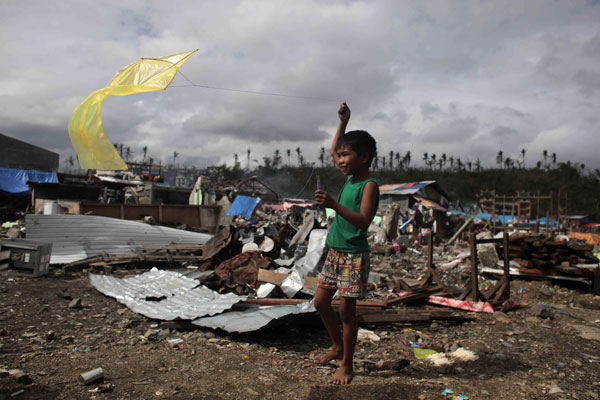 A child flies a kite amid the ruins of Tacloban city in the Philippines. Wang Jing / China Daily
But her precautions were in vain and the 44-year-old rice farmer felt her leg being crushed by falling masonry and roof beams. "I felt the pain and screamed for help. Then my husband dragged me out from under the debris," she said.
Roads were impassable, so Anade and her family were trapped in their roofless home for more than a week. They survived with the help of neighbors, who gave them rice.
Anade waited a further week at a public hospital in Tacloban, one of the few facilities still operating after the storm, but a lack of medical supplies meant she was unable to have surgery.
When the Peace Ark arrived, she and three other injured townspeople were the first to be taken aboard for treatment.
A transport boat carried the injured and dozens of Chinese medical workers toward the Peace Ark across a dark expanse of water.
It was pitch black on the ocean and the hospital ship provided the only glimpse of light, a shining spot that slowly grew larger.
After a day spent treating patients and erecting a field hospital, the exhausted medics sat or lay on the deck in silence and listened to the transport boat's senior officer talking to the ship's control room on the radio.
"This is Peace Ark. Do you copy."
"Copy. Three patients are coming aboard. Prepare the emergency rooms."
"Copy. Welcome home."