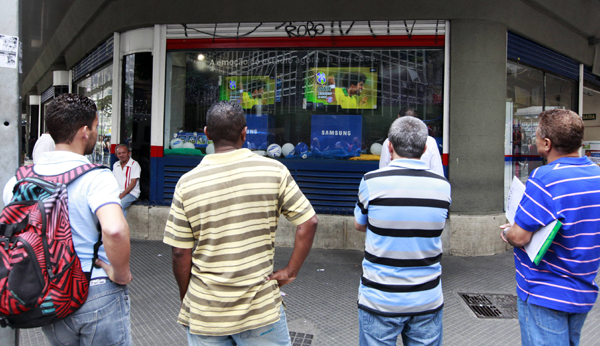 People watch on television the news conference of Brazilian national soccer team head coach Luiz Felipe Scolari in Sao Paulo May 7, 2014. Scolari announced the names of the 23 players who will play in the 2014 World Cup in Brazil. 2014. [Photo/Agencies]
SAO PAULO - Brazil coach Luiz Felipe Scolari announced his World Cup squad on Wednesday without any major surprises, choosing most of the players who won last year's Confederations Cup.
Scolari's 23-name list includes 16 players who were in the team that won last year's warm-up tournament by beating world champion Spain in the final. It will be a squad inexperienced in World Cups, however, with only six players who featured in past tournaments.
"We will have to pass our own experience to these players," said Scolari, who led Brazil to the 2002 World Cup title.
The team will mix talented young stars such as Neymar and Oscar with more experienced players such as Julio Cesar, Dani Alves, David Luiz, Thiago Silva and Hulk.
"We know that not everybody will agree with all the names, it's normal," Scolari said. "But now that we have the 23 players, we would like to ask that our fans support all of them so together we can focus on our goal of winning the World Cup."
The squad announcement was a high-profile event in Brazil, with television stations juggling their programing to broadcast it live. More than 700 journalists, many from abroad, were accredited for the event at a traditional concert house in Rio de Janeiro.
"My childhood dream came true," Neymar said on Instagram. "Today was one of the most anticipated days of my life. It's time to represent the entire country. I'm completely moved, anxious and nervous. I want it to arrive soon."
Five players from this year's list were in the 2010 World Cup - Cesar, Silva, Alves, Maicon and Ramires. Fred didn't make it to South Africa but was in the squad for the 2006 tournament in Germany.
"I don't think this lack of World Cup experience will play a big part," Scolari said. "Our players have been gaining experience in their leagues in Europe and I don't think they will be affected by this too much, although in certain World Cup situations, having that experience would be important. But I fully trust these players."
Veterans Kaka and Robinho - the stars in the 2010 tournament - still had hopes of playing in the tournament at home but were left off the list, as were former AC Milan forward Alexandre Pato and 34-year-old Ronaldinho, the 2002 world champion who missed out on his chance of making it to one last World Cup.
Also missing were Atletico de Madrid defenders Miranda and Filipe Luis, as well as Liverpool midfielder Philippe Coutinho.
Scolari had already confirmed nine players on the squad - Luiz, Oscar, Ramires, Willian, Paulinho, Cesar, Silva, Fred and Neymar. He said there were only two spots remaining in the team, with the doubts related to the third goalkeeper and the fourth central defender, positions that were filled by Atletico Mineiro goalkeeper Victor and Napoli defender Henrique.
"We know we have a big responsibility and we know that there are a lot of expectations," Fred said. "We have to turn that into motivation so we can go after this sixth world title."
Seven alternates will be announced in the coming days.
Brazil's starting 11 in the World Cup will likely be the same that played in the Confederations Cup. Brazil has won 13 of its last 14 matches, the only loss coming in a friendly against Switzerland after the warm-up tournament.
"It's important that today everybody can name most of the Brazilian starters," Scolari said. "We can't know for sure if we will use exactly the same team, it will depend on how these players will show up, but nine or 10 are certain to be in the starting lineup again."
Brazil is in Group A with Croatia, Mexico and Cameroon. It will open against Croatia on June 12 in Sao Paulo.