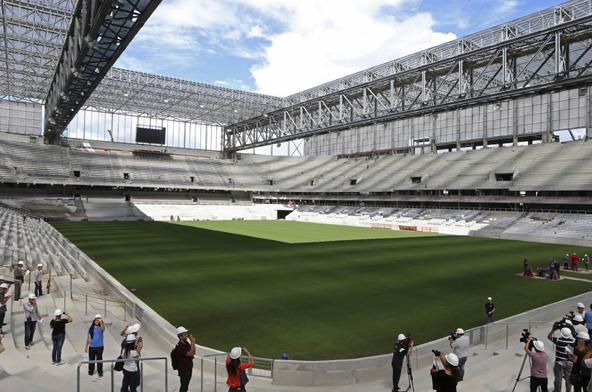 Journalists visit inside the Arena da Baixada soccer stadium as it is being built to host matches of the 2014 World Cup in Curitiba, in this Feb 24, 2014 file photo. [Photo/Agencies]
RIO DE JANEIRO - The Brazilian government has rejected claims that the public cost of staging this year's World Cup has impacted funding for health and education.
In a speech to Brazil's congress on Tuesday, sports minister Aldo Rebelo said his portfolio's annual budget - which includes World Cup projects - is less than one percent of that for health and education.
"There are those who compare investments in the World Cup with health and education, as if there has been a misuse of resources. This argument does not have any weight," Rebelo said.
Rebelo's comments coincide with simmering anger in Brazil at the huge cost of staging the June 12-July 13 tournament.
Mass anti-government rallies that began during last June's Confederations Cup are expected to regain momentum during the World Cup.
Protestors have expressed dismay that billions of dollars are being spent on football stadiums instead of improvements to Brazil's precarious public services like hospitals, schools and transport.
But Rebelo denied the cost of the tournament was being borne by taxpayers.
"The World Cup is basically a private sector project," he said. "The government offered loans of up to 400 million reais ($180 million) for stadiums. But even so, some [stadium constructors] did not seek a loan. Brasilia didn't, Parana [Curitiba] took less than half, as did Porto Alegre."
Infrastructure projects, many of which will not be ready until after the tournament due to severe construction delays, also include investments in new airport terminals, roads, hotels, telecommunications and public transport.
"We are creating infrastructure not only for the World Cup but for Brazil," Rebelo added.